Somebody Found The Last Device That Hadn't Run Doom Yet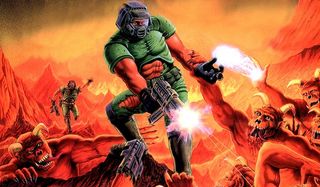 At this point, the original Doom runs on just about every device known to man. And for those of you about to say, "Not the Touch Bar on the new MacBook," our response to you is, "Not so fast!"
Adam Bell, an iOS developer, recently did the unthinkable. He got the full version of Doom to run on the new MacBook Touch Bar, shrinking the full 1990's shooter down and cramming it onto a 2170x60 resolution screen. While the game technically works, it ain't pretty to look at. Thankfully, Bell also figured out how to just shift Doom's HUD to the Touch Bar, which looks much, much nicer.
The above tweet comes from Bell's Twitter feed, where he's showing off a bunch of fun info concerning his latest hack to get Doom running on yet another device it isn't supposed to. While the game itself is pinched beyond recognition when running in full, you can see above that simply pushing the HUD down to the Touch Bar is actually a perfect fit. Of course, you'd have to keep glancing down to see important information while playing the game but, for those of you who prefer less clutter on your screen, it's a nice solution.
As has been pointed out in one of Bell's Twitter streams, that Touch Bar on the new MacBook is basically an elongated Apple Watch so, if something can run on that device, it stands to reason it can kinda-sorta run on the Touch Bar. Which is, of course, exactly what Bell managed.
Watching the full game run in real time is kind of a nightmare, though. The image is so pinched that you can only barely make out what is going on, and it's probably even more difficult to figure out if you haven't actually played the original Doom. You're basically looking at a bunch of cramped gray walls and occasionally something moving at the center of the screen. If it moves, of course, you know to shoot it. As for the standard in-game HUD, good luck reading it in the Touch Bar version of the game.
While we're sure someone will soon be posting videos of "Watch me beat Doom on the MacBook Touch Bar," it's safe to say that the average user will have no reason to try and get the game running on their own machine. What's important here is the creativity Bell is showing off. By doing this, he's basically saying, "Okay, this is neat and all, but what else can we do with that Touch Bar that might actually be useful?" While there might actually be some games that run dandy on the thing, we're more interested in other applications that could prove actually useful.
We're open to your ideas in the comments below.
Your Daily Blend of Entertainment News
Staff Writer for CinemaBlend.