E3 Just Opened Its Doors To The Public, Get The Details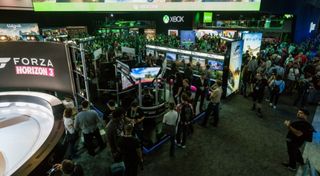 (Image credit: Entertainment Software Association)
The Entertainment Software Association announced that E3, the annual Electronic Entertainment Expo, will be opening its doors to the public for the very first time since its inception. Previously the expo was limited to the press and industry professionals, so things will definitely be different this time around.
Polygon is reporting that fans, gamers, enthusiasts and every Joe and Jane schmoe alike can attempt to walk the show floor this year at E3. The ESA will be offering up to 15,000 tickets to the general public. The first 1,000 tickets will be on sale for $149 each, while all ticket sales thereafter will be available for $249 on the official website. No matter which ticket is purchased there will be full three-day access to the show floor and the exhibits.
Private meetings, VIP parties and exclusive demonstrations will still be set aside for select members of the press, investors and executives. However, most of the glitz and glamor of E3 will finally be open to everyone.
This isn't the first time that the general public was allowed some form of limited access to E3, but it is the first time that E3 is open to the general public. Last year they allowed up to 5,000 specific fans to be invited to wander around and check out the booths, and they also held a separate E3 Live event that was free for some people to attend. This, however, will be the first time that anybody will be able to purchase a ticket and walk the show floor at E3 without restrictions.
The ESA appears to be making a move to draw in even more media attention, and social media attention, by getting people to attend the trade show event in Los Angeles, California this year. They also make some small bank on attendees, around $3.6 million in ticket sales. That's not a bad way to bolster revenue.
Some people see this as a way for the ESA to compete with other big gaming events that happen throughout the year, including GamesCom and PAX. The odd part about it is that E3 isn't really about immediate game sales, though. Most times, products showcased at E3 are prototypes, early design concepts, and games that aren't due for release until a couple of years after being showcased. At best we're talking about games that are due for release six to eight months after the show. It's not like E3 needs to immediately sell or market games to consumers right then and there.
Even still, for the ESA this is a great way to boost attendance numbers and make the event look even bigger than it actually is. There's even mention in the Polygon article that Geoff Keighley, a regular host for the event, will partake in some events and discussions involving fans who will be attending the event.
The trade show has typically centered around big new announcements, innovations, technologies and products coming to the electronic entertainment industry. It's definitely been the trade show that focused more on the business side of gaming, as opposed to GamesCom where it's open to the general public and is usually a lead-in convention to the big holiday season rush. However, one telling thing about the ESA's new change for E3 is that they definitely want more streamers, YouTubers and media content creators to make an appearance at the event, and they're hoping to lure them in with special access to certain exhibitor booths. Now that could prove to be a huge boon for how E3 is projected toward the general public.
Staff Writer at CinemaBlend.
Your Daily Blend of Entertainment News
Thank you for signing up to CinemaBlend. You will receive a verification email shortly.
There was a problem. Please refresh the page and try again.