Does This Bayonetta Update Mean Vanquish Is Coming To PC?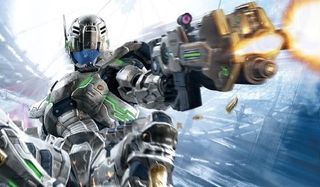 Sega sure does love messing with its fans. About a week after launching Bayonetta on PC (following a pretty clever tease of the project), it looks like they might be teasing the next big PC launch via Bayonetta itself.
While no official word has come down from Sega, a recent update to the PC version of Bayonetta has folks convinced that another Sega and Platinum Games project is heading to the same platform: Vanquish.
If you never played Vanquish last generation, then you missed out on one of the most criminally overlooked third-person shooters to ever grace a console. Coming from the same team behind Bayonetta, it featured all of the over-the-top, stylish and explosive action the studio has become known for. What they've also become known for as of late is being involved in Sega's clever little tease parties leading up to PC launches. The most recent bit of tomfoolery actually happened today, within the PC version of Bayonetta.
If you play Bayonetta on PC, you wouldn't be faulted for missing the latest update to the game, a file measuring 22 kilobytes according to a report from Gamespot. Folks tooled around in the game trying to figure out what, exactly, had been altered, until someone finally came across a new avatar.
While every other Bayonetta avatar is tied to that particular game, the new one is a picture of Sam Gideon in his "Augmented Reaction Suit." Gideon is the protagonist of Vanquish, a game that launched on PlayStation 3 and Xbox 360 back in 2010. Never receiving a PC port, this small addition to the Bayonetta PC port has folks convinced that Sega is about to make another highly-anticipated announcement.
I mean, they teased Valkyria Chronicles before launching that particular title on PC and even teased Bayonetta by launching a free 8-bit shooter on April 1. Dropping this image into Bayonetta seems like another example of Sega giving a peek at their hand before putting all of their cards on the table. So again, nothing is confirmed, but it seems like a pretty logical leap to make in this particular case.
As for Vanquish, man, I can't say enough good things about that wild shooter. The weaponry is great, the music is awesome and the story is street-rat insane; but what really sets it apart from the pack is the gameplay. That Augmented Reaction Suit we mentioned earlier lets the player pull off all kinds of nifty tricks, including rocket-sliding around the level on your knees while blasting enemies to pieces in slow-mo. It seems a bit wild at first but, once you master the system, it makes for some of the most rewarding shooting mechanics to date.
So what do you think, readers? Are Sega and Platinum just being goofy with this Vanquish image in Bayonetta or are you expecting an official announcement in the near future? Let us know in the comments below.
Staff Writer for CinemaBlend.
Your Daily Blend of Entertainment News
Thank you for signing up to CinemaBlend. You will receive a verification email shortly.
There was a problem. Please refresh the page and try again.