Assassin's Creed: Rebellion Is A Mobile Strategy Game With The Cutest Assassins Ever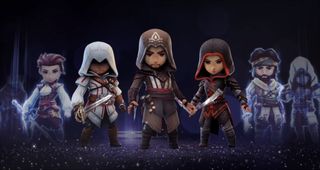 Ubisoft is set to release a brand new Assassin's Creed game ahead of the upcoming Assassin's Creed: Origins. The upcoming title is called Assassin's Creed: Rebellion and Ubisoft's trailer for the game, and it's filled with adorably cute Assassins.
The trailer was posted up over on the Ubisoft YouTube channel. It's a short 35-second piece featuring the Spanish Assassin, Aguilar, along with Ezio and Chinese Assassin Shao Jun.
The trailer doesn't show much gameplay but we do find out it's set to arrive on the iOS for Apple devices and on Android phones and tablets.
Some other footage that surfaced of the game showcased Aguilar in action during a mission set in 15th century Spain.
One thing that absolutely stands out with the game is the soundtrack. Even from the brief demonstrations the music is just gorgeous. There's a lot of soft nods to what Jesper Kyd accomplished with the original trilogy of games, Assassin's Creed, Assassin's Creed II, and Assassin's Creed: Brotherhood. This is in no way to take away from what Lorne Balfe accomplished with the unforgettable and thematic soundtrack that helped shape Connor's adventures in Assassin's Creed III.
The actual gameplay in Assassin's Creed: Rebellion is a mix of platforming and turn-based combat. Players will be able to sneak up on unsuspecting foes and take them down stealthily, or face them head on and engage in back-and-forth, turn-based sword clashing.
The game still retains its serious story and nature, but it's all encapsulated within a chibi-like design for the characters where there's a lot of cutesy looking Assassins and guards.
Much like the other mainline games, it's still possible to utilize the environment to your advantage, such as hiding in haystacks or using platforms to get the drop on foes. The game further dives into the stories surrounding the characters that were introduced in other games.
Aguilar, who was played by Michael Fassbender in the live-action motion picture, is accompanied in his journey by Maria. As the missions press on you'll be able to unlock new Assassins to play, including Tariq and Luis.
The mix and match of Assassins set within this cutesy playground of death is a definite step in a different direction for the series, even if it's somewhat of a tweak of the side-scrolling platforming gameplay featured in the trilogy of budget-priced games Ubisoft released a while back for home consoles and PC.
The newest game is being compared a lot to Fallout Shelter due to the way players will have to strategically address situations in segmented blocks, but it's really a lot closer to Ronin than it is Bethesda's mobile strategy game.
You can look to get your hands on Assassin's Creed: Rebellion soon for iOS and Android devices.
Staff Writer at CinemaBlend.
Your Daily Blend of Entertainment News
Thank you for signing up to CinemaBlend. You will receive a verification email shortly.
There was a problem. Please refresh the page and try again.