Life Is Strange Developer Is Working On A New IP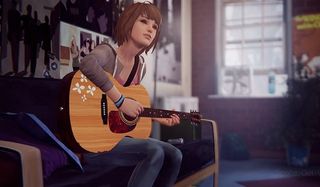 If you're already excited for the upcoming launch of Life is Strange: Before the Storm, then you'll be doubly excited to know that the developers of the first game in the series, Dotnod Entertainment, are already working on their next title. While details are scarce, we at least know that this next game will be developed through a partnership with Bandai Namco.
This news comes to us via MCV, who recently had a chat with Bandai Namco VP of marketing and digital, Herve Hoerdt. According to Hoerdt, the publisher has been working for the past couple of years to broaden their portfolio, working with additional developers to offer more unique gaming experiences. While we're only hearing about this partnership now, the ink apparently dried on the deal back in 2016, when development on the new project began.
While Dotnod developed the original Life is Strange and are currently working on some sort of follow-up, the Deck Nine-developed Life is Strange: Before the Storm, is set to launch next Thursday, Aug. 31. In similar fashion to the first game, this prequel will be told across multiple chapters. But while one Dotnod team is working on their direct follow-up, another has already begun work on this new title being done in partnership with Bandai Namco.
According to the announcement, we can expect to hear more about this mystery title when it gets properly revealed in 2018. We don't know if it will be physical or digital, episodic, or what platforms it will be available for. Based on what details we do have, though, it sounds like it's definitely right up Dotnod's alley.
The game is being described as having a "fair dose of investigation." It's also being described as a "narrative adventure experience," and both of those descriptors sound a lot like Life is Strange. We also know that the game will be set in a fictional U.S. town. According to Hoerdt, the publisher feels that detail is different, as they really want to win over that particular market with this next game.
Moving forward, Hoerdt explained that Bandai Namco wants their stable of games to be half in-house development and half made from partnerships with other developers. This is evident from a couple of earlier releases from this year, the critical darling, Little Nightmares, as well as unique FPS mystery, Get Even. Those games have a bit of a dark edge to them, so we wouldn't be surprised to see that trend continue in whatever Dotnod has cooking for Bandai Namco. Here's hoping we don't have to wait until too far into 2018 to get the rest of the details; and here's hoping we don't have to wait too long after that to actually get our hands on the game.
Staff Writer for CinemaBlend.
Your Daily Blend of Entertainment News
Thank you for signing up to CinemaBlend. You will receive a verification email shortly.
There was a problem. Please refresh the page and try again.