Here's What's Under The Hood Of The Ataribox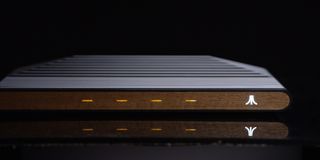 (Image credit: Atari)
Atari finally revealed some new information about the company's highly anticipated new game console known as the Ataribox. The info was made available from an announcement that the company sent out, discussing some of the specs and features for the company's upcoming reinvigorated take on home console gaming.
First and foremost, the Ataribox will be running on a custom AMD processor and it will utilize a Radeon GPU. No details were revealed on what iteration of the Radeon line the company will be using, but most consoles these days have settled on the Jaguar-line of APUs.
The console will be running a custom version of the Linux OS. This is an interesting approach because Valve went a similar route with the SteamOS for the Steam Machines, which runs on a version of Linux as well.
The OS will be fitted for running many of Atari's older catalog of games, as well as some more recent titles from a wide variety of different studios. Unfortunately, the press release does not explain whether or not the "current" games include titles released within the last generation or games that were available from Atari up until the seventh generation of gaming.
The company had a number of titles under its belt, some of which were of particular decent quality, such as the Test Drive Unlimited series. Then again, I tend to doubt that Atari would invest in reviving those games for a risky outing like the Ataribox. It's more likely that we'll see the Alone In The Dark remake, and possibly a few other classic games such as Gauntlet and possibly Thrillville making a return, but it's impossible to properly tell exactly what sort of games may or may not make a return. A lot of Atari's titles are also no longer owned by Atari, such as The Terminator license, or The Matrix, Dragon Ball Z and Driver. In the case of the latter franchise, it's now under Ubisoft's publishing label.
According to the press release, Atari is planning on launching the Ataribox system next spring in 2018 for anywhere between $249 and $299. In order to fund the game there are plans to launch a crowdfunding campaign on IndieGoGo.
The system will be capable of bringing the full PC experience to your living room, enabling users to stream television, utilize applications, engage in social activities, browse the web and listen to music. It sounds like a typical entertainment hub but designed to play Atari games.
In a way, at the $250 price point it could be the gateway system that Valve attempted to utilize with the Steam Machines. For $250 you're likely going to get a system that can play games at 720p on high settings or 1080p on medium settings (which wouldn't be a bad thing for today's standard of gaming).
It's mentioned that the system will also be able to play games from other digital content platforms as well, which could likely include Steam.
You can currently sign-up for an alert about the crowdfunding campaign over on the Ataribox website. The IndieGoGo campaign is scheduled to get underway this fall.
Staff Writer at CinemaBlend.
Your Daily Blend of Entertainment News
Thank you for signing up to CinemaBlend. You will receive a verification email shortly.
There was a problem. Please refresh the page and try again.