LawBreakers Is Getting A Free Weekend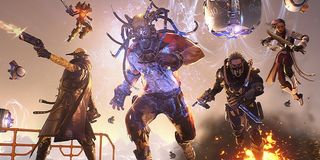 If you've got some free time this weekend, Boss Key Productions is kicking open the door to their arena shooter, LawBreakers, with everyone invited to take part in a free weekend of play.
According to the press release, LawBreakers will be the latest game to go completely free for an entire weekend. That means you won't be limited to any specific characters or modes. Instead, you'll download the full game and have complete access to all of its content for a handful of days. When the weekend ends, you can walk away scot free. Otherwise, you can purchase the game and have your progress continue over.
The LawBreakers free weekend is set to run from 10 a.m. PDT this Thursday, Sept. 28, through the same time on Monday, Oct. 2. So get your download started early if you want to squeeze in as much gratis gaming as humanly possible.
For the uninitiated, LawBreakers is an arena shooter that has a lot in common with old-school shooters like Quake. The game seems to get more comparisons to Overwatch than anything but, other than the fact that they both boast a cast of unique characters, they are really pretty different games.
LawBreakers is pretty straightforward and focused entirely on competitive shootouts. Each character has a unique set of abilities, including one that will help them take advantage of the game's unique physics. Each map is home to sections of zero gravity, which make for some really interesting shootout scenarios. Having sharp shooting skills is only half of the challenge; the other half is figuring out how to best leap, hover, soar and slingshot your way around the maps in order to give your opponents a rough time. It's a hell of a lot of fun, and most of the characters offer genuinely unique, interesting spins on genre staples.
Modes include everything from the recently implemented deathmatch mode to encounters that have you battling over territory, charging objectives and the like. Everything about the game is fast and frantic. If you haven't guessed yet, I'm kind of a big fan.
As an added bonus, folks who play through the weekend will earn some extra rewards, too. New players who join the game for the first time on Steam and manage to get in 50 matches during the free weekend will be entered for a chance to win a copy of the full game. On both the PC and PS4, current players who also jump into 50 matches this weekend will be entered for a chance to win 24 stash drops for their platform.
LawBreakers usually goes for $30, a price that includes all future updates, characters, maps and modes; pretty much everything that isn't cosmetic. Between now and Wednesday, Oct. 4, you'll actually be able to pick up the game for 25 percent off. So if you like what you see this weekend, you'll be able to grab Cliff Bleszinski's newest offering on the cheap.
Staff Writer for CinemaBlend.
Your Daily Blend of Entertainment News
Thank you for signing up to CinemaBlend. You will receive a verification email shortly.
There was a problem. Please refresh the page and try again.