New Psychonauts 2 Video Reveals The First Gameplay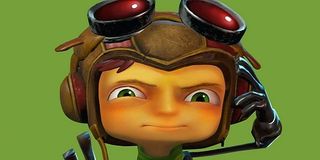 Psychonauts 2 may still be a ways off from release, but that's not stopping the team at Double Fine from offering a rather detailed progress report. That report takes the form of a walkthrough video starring Studio Head Tim Schafer and project lead Zak McClendon, showing off about 14 minutes' worth of gameplay, behind-the-scenes footage and more.
The new Psychonauts game has been a long time coming; with the series' roots established all the way back in the era of the PlayStation 2. Fans have been clamoring for a follow-up for years and, thanks to crowdfunding, they were able to finally put their money where their mouths are.
A couple of years ago, Psychonauts 2 managed to raise a whopping $3.8 million through the Fig platform. What sets Fig apart from similar programs is that it's actually an equity crowdfunding platform, meaning that folks have the potential to make money back on their investments.
Despite the success of the Fig campaign, Psychonauts 2's budget has ballooned even further. Combining the funds from Fig, the investment from Double Fine itself, the contribution of an anonymous donor and, most recently, additional funds from publisher Starbreeze, the budget has shaped up to be more like $21.5 million. Not bad for an indie title, right?
So, with plenty of cash in the bank, Double Fine has been hard at work on actually crafting the game. While they've released several more bite-sized games in recent years such as Stacking, Broken Age and Costume Quest, this sequel to Psychonauts is going to be their first large-scale undertaking in quite a while.
Thankfully, it looks like things are coming along quite nicely. We get a quick look at the hub world for Psychonauts 2 in the above video, though not all of the assets are in place. It sounds like protagonist Raz has access to most of the abilities he'll learn in-game, too, though they're not all on display just yet. There's even a short section from a cutscene thrown into the mix but, like the gameplay sections, it isn't complete yet. Not all of the art is in place and one of the characters has placeholder voice work tacked on for now.
According to Double Fine, the next big milestone will be wrapping up the first third of the game. While this will initially be done in a rough form, it should be considered play ready. Once folks are able to start testing that section of gameplay, the team will learn more about what needs to be tweaked, how the story is rolling, etc.
Given the way early funding for Psychonauts 2 was gathered, it's not surprising to see Double Fine putting out such a detailed video about development. Whether you're an investor or not, though, it's pretty nice having a window into the game's development like this.
Staff Writer for CinemaBlend.