Pixar's First VR Experience Explores The Land Of The Dead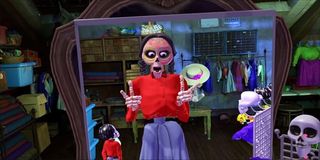 You would think that Pixar's very first foray into the realm of VR would be something bright, cheery, whimsical and airy... right? Well, Pixar decided to take a completely different route with its new VR project for the Oculus Rift called Coco VR, based on the upcoming movie. Check out the new trailer
The 46-second trailer announcement trailer for Coco VR was released by Pixar in advance of the forthcoming animated film.
The trailer starts with a look at a memorial where it was once used as a vigil of sorts. The trailer then moves on to say that beyond the land that we know exists another world.
Between the text we see what looks like some sort of room filled with all sorts of clothes. We then get a clip of the first bit of gameplay, which is not quite what a lot of people might expect. We see a hand reach out and grab a hat off a rack. The hand obviously belongs to the main character, and viewers get to briefly see the hand manually grab at the hat and attempt to put it on their character's head.
However, before we get to see the main characters, the trailer gives us a look at the very unique and very magical virtual world that Pixar created in Coco VR. Towering structures of multi-stacked buildings, houses, and keeps stretch far into the sky and as far back as the eye can see. It's a glittering mosaic of architectural wonders, filled with brightly colored neon lights that fill up the misty sky. It's a real sight to behold, and I can only imagine how glorious it will be seeing it in real-time with a VR headset on.
This interactive entertainment experience is a bridge between the surreal and the imaginative. It encapsulates a lot of Pixar's fun-filled qualities but within the scope of a fully 3D VR experience. This is highlighted when we finally see the main character for the first time in front of a mirror, where she's nothing but bones... literally. She's trying on clothes in the shop (or attic?) and we see some small figurines looking up at the mirror as she plays around in the room with another fellow who takes off his head and tosses it to her.
We then get a number of clips showcasing a variety of different scenarios, including the duo going outside and using a camera to snap a photo while the luminous city of lights shines brightly in the background.
There's definitely a lot of influence from Mexican culture, but it looks like Pixar's project seems to nod respectfully toward other animated iconic projects that deal with the land beyond the living, such as Corpse Bride and _Grim Fandango. _
That's not to mention that the design of the city and the mesmerizing lights seem to capture the kind of wonder and whimsy from films like The Polar Express.
You can look for Coco VR to go live later this year on November 15th for the Oculus Rift and November 22 for Gear VR.
Staff Writer at CinemaBlend.
Your Daily Blend of Entertainment News
Thank you for signing up to CinemaBlend. You will receive a verification email shortly.
There was a problem. Please refresh the page and try again.