Marvel Heroes Is Shutting Down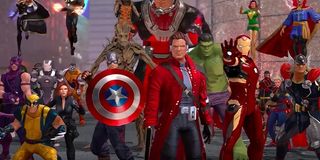 Sad news for the Marvel universe this week as we learn that Marvel Heroes, better known as Marvel Heroes Omega is shutting down on console. If you want to get in some last-minute quests with a group of your favorite heroes, now would be the time to do it.
Going strong on PC for a number of years, Marvel Heroes only made the jump to consoles about six months back. A free-to-play romp, Marvel Heroes was referred to as a Diablo-style MMO where players got to form teams of their favorite superheroes, run around maps, beat the stuffing out of baddies and collect some sweet, sweet loot.
Everything sounds great on paper and the game garnered many fans, but apparently things weren't going so smoothly behind the scenes. Marvel/Disney made the announcement official this week via email, letting players know that the game would be coming to a close. An update sent to Kotaku goes a step further, letting folks know that the closure will come sometime after 2017 wraps up, but we doubt you should plan on playing much longer than that. Also, the ability to buy items within the game has already been disabled. Despite the fact that this is always a risk with these types of games (heck, even with a game like World of Warcraft), fans are not too pleased and already asking for refunds for their digital purchases. Sorry folks, but that's kind of how this works. It sucks, but nobody was ever promised an infinite lifespan and, again, the writing was pretty much on the wall for Marvel Heroes.
As the initial report points out, the studio has been in visible trouble for some time now. It's been quite a while since game development updates have been made available, and the studio at Gazillion has missed several expected content updates. They're known for having new gears, skins, missions and the like come out in honor of other Marvel projects, none of which have been represented in the game for months. They apparently also missed a scheduled Halloween event and, most recently, an update dealing with Thor: Ragnarok.
Going even further, a couple of the game's community managers apparently evaporated within the forums, so fans started to suspect something was afoot. The original report goes on to outline more tension below the surface, as the game sounds like it was something of a nightmare to develop for. Whether or not it was making money, a game undergoing so much turmoil can only sustain itself for so long.
So, sadly, it's not really a surprise Marvel/Disney decided to cut ties and bring the game to an end. So for the foreseeable future, your only way to watch the Guardians team up with the Avengers will be on the silver screen next year. Unless you're into Legos, that is. And who isn't into legos?
Staff Writer for CinemaBlend.
Your Daily Blend of Entertainment News
Thank you for signing up to CinemaBlend. You will receive a verification email shortly.
There was a problem. Please refresh the page and try again.