How Much Desert Bus For Hope Raised This Year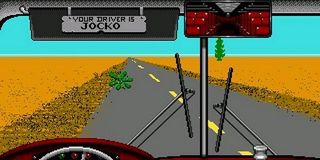 How long would you play a terrible video game for charity? The annual Desert Bus for Hope marathon went nearly a full week this year, pulling in a tremendous amount of money to be donated to the Child's Play charity. All told, we're talking $650,250.
Over on the Desert Bus blog, the folks from Loading Ready Run announced the completion of their 11th straight Desert Bus for Hope extravaganza. In short, participants play one of the most grueling slogs of a video game for as long as people are willing to fork over cash for their efforts. That money then goes to the Child's Play charity, which provides video game goodness for youngsters in hospitals, domestic violence shelters and the like.
While this year's earnings didn't top the 2016 haul, Polygon points out that it still helped push the long-running charity event to more than $4 million, total. That's a heck of a lot of people playing an almost saintly amount of the game Desert Bus. Actually, it isn't so much a game as a mode from the Sega CD title Penn & Teller's Smoke & Mirrors, a game that wasn't actually released. We can only assume that the original intent of Desert Bus was to see how much monotony players could handle before going insane.
In the "game," the player plops behind the wheel of a big rig and drives the distance from Tucson, Arizona, to Las Vegas, Nevada. This trek is made while going 45 mph, and everything happens in real time. If you happen to wreck your truck, you must be hauled back to your point of origin and, again, this all happens in real time.
While other charity streams feature folks playing games like Dark Souls, Rock Band or even newer titles like The Legend of Zelda: Breath of the Wild, the Bus for Hope crew truly earn their donations by sitting through an experience that has been outlawed in 12 states and four countries.
This donation drive is kind of unique in that it is similar to the type you see kids getting involved with at school. Only rather than pay a kid a dollar for every lap they run around a track, you're paying for hours spent behind the wheel of a slow-moving, virtual truck. The deeper into the donation drive things went, the more expensive the hours cost.
The team went a whopping 158 hours this year, which totaled six days and 14 hours. Sure, play was done on rotation, but more than an hour of Desert Bus is usually enough to break any normal human being. These folks tucked in for the long haul and, more importantly, they helped raise a lot of money that will brighten the day of a lot of kids in the coming months.
Staff Writer for CinemaBlend.
Your Daily Blend of Entertainment News
Thank you for signing up to CinemaBlend. You will receive a verification email shortly.
There was a problem. Please refresh the page and try again.