Bungie Cancels Destiny 2 Livestream Amid Growing Community Tension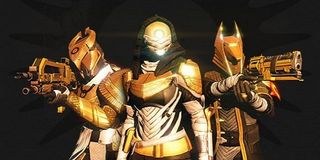 It was announced last night that a Destiny 2 livestream scheduled for today had been cancelled. Instead, Bungie decided to invest their efforts in updates from various members of staff focusing on the future of the game.
This was pretty clearly a tactical retreat on the part of Destiny 2 PR. Spurred on by controversy surrounding games like Battlefront 2, fans have been letting Bungie know, both loud and clear, that they weren't happy with some systems that were at play in the game.
As is usually the case leading up to a game's big DLC launch, Bungie had planned to go live with a broadcast today highlighting the upcoming Curse of Osiris update. Even though that DLC goes live next Tuesday, Dec. 5, Bungie has opted to pull the plug on this final promotional push leading into the launch. In short, it would probably be seen as pretty tacky to try and drum up excitement for paid content when the community is currently upset that the game was utilizing systems that pushed players toward spending additional money on microtransactions.
According to an announcement on the Bungie blog, the stream was going to include info on the weapons and armor players could earn in the new DLC. Instead, the post states the developer will be investing efforts into discussing higher priority topics with the community.
The post concludes by saying that the developer updates are expected to start rolling out today, but were not posted as of this writing.
As far as background is concerned, it was discovered that Bungie had created some questionable XP and reward loops within Destiny 2. Players were receiving less XP for shorter activities, and that fact was not being accurately or clearly communicated. The result was that players felt they had both been lied to and been wasting their time on certain in-game activities. I'm not sure players would have been so upset had these facts been made clear. It stands to reason that you would earn more XP from taking part in bigger, longer activities, but only if you make it clear that is the case.
The fix was apparently equally disappointing. Bungie turned off the system as promised, but then upped the amount of XP players needed to earn certain in-game rewards.
If nothing else, we're hoping whatever updates Bungie has coming address this issue and explain to players why they should keep coming back for more. I'd argue that Destiny 2 is a rather big step up compared to the original base game, but all of the early buzz we're hearing is that the Curse of Osiris DLC is as disappointing as the early DLC for the original game. Many fans already feel like there's too little post-game content in Destiny 2 and Curse was supposed to help address that problem. If that's not going to be the case, then hopefully Bungie has a lot of tricks up their sleeve that they'll be revealing in upcoming blog posts.
Staff Writer for CinemaBlend.
Your Daily Blend of Entertainment News
Thank you for signing up to CinemaBlend. You will receive a verification email shortly.
There was a problem. Please refresh the page and try again.