A Way Out Developer Josef Fares Goes Off At The Game Awards, And It's Sort Of Beautiful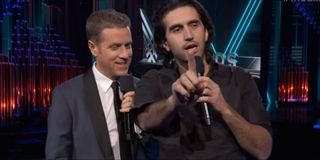 One of the most bizarre, exciting and off-the-cuff moments from The Game Awards 2017 was Josef Fares from Hazelight Studios going on a sort-of-beautiful rant while talking to Geoff Keighley before unveiling a new trailer for the co-op story game, A Way Out.
The clip has been trending across various YouTube outlets, including Shirrako, which uploaded it after witnessing Fares going on a rant during the awards show. Fares first drops several F-bombs when talking about the Oscars, basically saying that the Academy Awards have nothing on video games because video games are an interactive medium, and the storytelling involves actual player participation.
After cursing at the Oscars, Fares then hilariously asks Geoff Keighley if it's okay to swear. After Keighley gives the go ahead because he says they're streaming online, Fares goes right back to dropping F-bombs, and holding up the middle-finger to the camera while addressing the Oscars, much to the enjoyment and support of the audience in attendance at The Game Awards.
Fares then goes on to justify why he's still working with EA, saying that the publisher has been more than supportive of him and Hazelight. He also says that every publisher screws up every now and then, and that with the loot boxes and Star Wars: Battlefront 2, EA just screwed up.
Even though Geoff Keighley tried to reel him in, he quickly tries to explain that he has had full control over what he's been able to produce with A Way Out for PC, PS4 and Xbox One.
During the tirade we also learn that you'll be able to play the game with someone who doesn't own it. That's a real surprise that I didn't expect to be announced during the show. Unfortunately, no time is spent explaining how that works exactly, and if that means the game will stream or download to the other player's machine, or if they'll be able to play it at any time or what. Details were sketchy because Fares was more concerned with talking about the Oscars.
Even still, we did at least get to see some new footage of A Way Out, including seeing the two main characters playing a banjo and piano, getting into fights with cops, outrunning the law, beating up prisoners, and attempting to set some wrongs right.
However, despite the trailer looking great for A Way Out, it completely paled in comparison to Josef Fares' antics leading up to the reveal of the new trailer.
Obviously, some people thought that Fares' speech was the best part about The Game Awards, while others were convinced that the only thing the show is good for is cringe-worthy moments like Fares' rant. So, what do you think about what he said? Is there any truth to it or was he just jet-lagged?
Staff Writer at CinemaBlend.
Your Daily Blend of Entertainment News
Thank you for signing up to CinemaBlend. You will receive a verification email shortly.
There was a problem. Please refresh the page and try again.