Capcom Revealed Street Fighter V's Season 3 Characters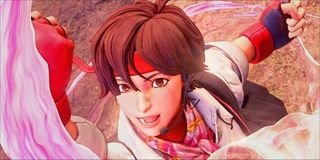 (Image credit: Capcom)
Capcom promised to keep the new content flowing and rolling for Street Fighter V. The game got off to an awful start, but the new seasonal DLC has helped bring some modicum of respect from the gaming community. Well, things got a lot more exciting recently when Capcom revealed all of the playable characters for Season 3.
Polygon is reporting that, starting January 16th, 2018, with the launch of Street Fighter V: Arcade Edition, season pass owners will have instant access to Sakura, four outfits for the character, and a brand new stage.
Sakura's four outfits are based on both her new job and her classic getups, this includes her Japanese arcade hostess attire and coaching attire from her post-high school days, and her iconic school girl outfit that she rocked in the original Street Fighter Alpha series. For an extra bit of nostalgia you can also slap on her traditional white gi with the latest in protective hand and foot gear.
Sakura will be available on January 16th and will then be followed by the likes of five more pugilists, including the highly requested Blanka. The jungle-fighting, electricity-spewing mutant will then be followed by one of Bison's own, Falke. We don't know much about her, but we do know that she was teamed up with Ed as far as the story is concerned. And for those of you who don't remember, Ed was one of the more recent DLC additions who appeared during Season 2 of Street Fighter V. He was a mix of M. Bison and Dudley, making him a very interesting kind of fighter.
Falke will then be followed up with the release of Cody, who is sporting a far more dapper look these days. The street fighter who made his debut in Final Fight is now donning a three piece suit, but he's missing the actual suit. Funnily enough he's still in chains and cuffs, but, maybe he's all dressed up for his court appearance in hopes of getting parole?
The last two are G and Sagat. Obviously the Thai kickboxing champ needs no introduction, but G might be someone who could make an interesting splash in the game, given that he's a newcomer that we know almost nothing about. His fighting style and story are a complete mystery right now. Sagat, on the other hand, will be rekindling his longtime rivalry with Ryu, and even sports an all new outfit to go along with his newfound purpose.
In addition to Season 3 introducing these new characters, as pointed out by Polygon we're also going to see the new second V-Trigger abilities pop up as well. This was something Capcom mentioned would make an appearance in Street Fighter V, but was confirmed during the Capcom Cup eSports finale.
While we know that six new characters are on the way, what you probably didn't know was that there's also a new stage. Well, technically it's a returning stage from the Street Fighter Alpha series based on the Kasugano Residence, which features Sakura's brother in the background playing video games.
We don't know when exactly the other characters will be available, but Sakura will launch early next year with the new Street Fighter V: Arcade Edition package, which will contain all of the previously released DLC.
Your Daily Blend of Entertainment News
Staff Writer at CinemaBlend.