EVE Developer Is Working On A Brand New MMO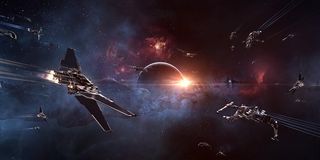 CCP, the team behind the popular space MMO, EVE Online, appears to be gearing up to dive into development of their next game. And based on a recent job posting, it sounds like it's going to be another MMORPG.
Based on the recent CCP job posting, they're on the lookout for a lead designer to join the team in London to start work on their next game. While it's hard to infer what we can really expect out of the project, the job description at least gives us some ideas.
The idea of a "small" team developing an MMO certainly sounds ambitions, but the description goes on to say that the squad is growing. They seem to be asking for quite a bit out of any candidate, too, stating that they need to show a track record of "leading design teams on multiple high-profile titles." And they're especially interested if said individual has had experience with RPG gameplay and systems design development.
It sounds like the game is actually already coming along, as the lead will need to create concepts to "match the game's vision." That leads us to believe development is, to at least some extent, already rolling.
In the area of background, the posting states the candidate needs to have "fantastic games knowledge" in reference to both classic and contemporary MMORPGs. They also reference Unreal Engine 4, which leads us to believe they've already settled on the engine they want to utilize for the new game.
Since CCP is known for EVE Online, a massive space opera, we kind of wonder if the above details point to a more traditional, fantasy-based MMO similar to World of Warcraft or Guild Wars 2 this time around. They also recently moved EVE to a solid free-to-play model, so we can't help but wonder if that will be the plan starting out this time around. Final Fantasy XIV is just about the only new MMO that's managed to draw an audience with a traditional pay model, so we figure it would be a good idea to build this new MMO from the ground up with free-to-play in mind. That just seems to be the mindset of modern gamers.
Of course, this announcement hasn't been without at least a little speculation. CCP was working on a World of Darkness MMO a while back that evaporated. Could this be a sign of a possible revival, or is it more likely they're trying something wholly new? Feel free to chime in with your own thoughts in the comments below.
Staff Writer for CinemaBlend.
Your Daily Blend of Entertainment News
Thank you for signing up to CinemaBlend. You will receive a verification email shortly.
There was a problem. Please refresh the page and try again.