Babe Ruth Calls His Shot In New MLB The Show 18 Trailer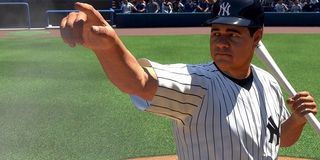 If there's one thing MLB The Show is not lacking in, it's baseball legends. The greatest baseball players of our time make up the game's roster but, in 2018, San Diego Studio is looking to add at least one of the greatest players of anyone's time. Yes, The Babe is coming.
It's not every day you get to see Babe Ruth step out onto the diamond and call his shot. Well, that used to be the case. Based on what we're seeing in the latest trailer for The Show 18, the Great Bambino will actually be a playable character.
The Babe doesn't make an appearance until the tail-end of this two-minute trailer showing off much of what the latest PlayStation 4 exclusive MLB game has to offer. If you like virtual ball, then strap in for all of the runs, pitches, slides and diving catches the developers could cram into the runtime. Less of a feature trailer and more of a hype reel, this "First look gameplay trailer" lives up to its name, giving the series' eager fans plenty to look forward to once the new iteration of The Show finally launches on March 27.
Still, most of what's on display here is expected. Don't get me wrong; it's a wonderfully edited series of action shots coupled with a pretty fantastic soundtrack. But still, there wasn't much on display I would call unexpected. That is, of course, until the Sultan of Swat struts out to the plate, points over the wall and gets ready to send the ball flying.
It's not uncommon for sports games to breathe new life into fan-favorite athletes from yesteryear. Various Madden iterations have done this over the years, WWE is notorious for giving players control of old-school favorites, and even a UFC game introduced Bruce Freaking Lee. But when was the last time you were able to swing away at a fastball as the Colossus of Clout, much less with modern-day graphics?
It's easy to see why the comments for the above trailer are so positive. Babe Ruth being in a baseball game is a rare treat, and we're only a couple months out from The Show offering up exactly that.
Outside of Babe Ruth's appearance, The Show 18 looks as solid as ever. The game is sure to be as packed with features and modes as ever, but this little cameo makes us wonder what other little secrets the developer might have up its sleeve. Oh, and we're also big fans of nods to specific teams' trademark cheering sections. It's little touches like this that make folks come back to The Show in droves.
Assuming Mr. Ruth isn't the only legend to make an appearance in this year's game, who else would you readers like to see added to the upcoming roster? Let us know in the comments below.
Staff Writer for CinemaBlend.
Your Daily Blend of Entertainment News
Thank you for signing up to CinemaBlend. You will receive a verification email shortly.
There was a problem. Please refresh the page and try again.