Settlers Of Catan Publisher Is Closing Its Doors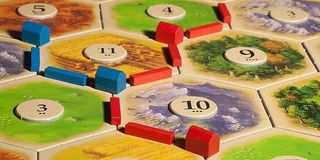 Mayfair Games, publishers of the popular tabletop game, Settlers of Catan, has bowed out of the industry. Folks who love their games shouldn't worry too much, though, as the whole kit and caboodle has been purchased by an even bigger publisher, Asmodee.
There are a lot of ways that video games and tabletop games differ. Aside from the obvious differences in digital versus physical, one of the biggest differences is that large publishers are not necessarily seen as a bad thing in the tabletop space. Asmodee acquiring all of Mayfair's properties likely means that all of those games will continue to be printed in the coming years, with perhaps some new partnership deals to bring out specialized versions of fan favorites. A Game of Thrones version of Catan recently launched, for instance, and Asmodee might decide to publish more themed versions in the future.
In other words, Asmodee buying Mayfair's catalog isn't like EA buying a small publisher, giving them support for one or two games and then disbanding them because "games are expensive to make, y'all."
According to the tweet from Mayfair announcing the transition, they say it was not an easy decision-- but a necessary one. That could mean any number of things, from financial troubles to a lack of desire to try and keep up with the ever-growing tabletop industry. The company saw layoffs back in November, so we figure the former is more likely than the latter. Still, after 36 years in business, it's sad to see them go.
Mayfair has stated that they actually reached out to Asmodee to see if they would be interested in picking up their properties. Unlike the video games industry, it isn't like the major publisher swooped in and tried to muscle them out. Asmodee's collection will now join the likes of Fantasy Flight and Days of Wonder, just two of the other games houses that have been acquired by Asmodee in recent years.
The good news is, we expect them to treat Mayfair's properties as well as they have all of the other properties they've acquired over the years. Some of the most popular games on the planet are under the Asmodee umbrella, including Dead of Winter, Dixit and even the hugely popular Star Wars: X-Wing (not the video game, obviously.). Their resources have allowed those titles to soar, which is why we're not exactly fearful for any of Mayfair's former offerings. Catan will still be here, it'll just be boxed by a different publisher.
Here's hoping all of the folks working at Mayfair Games land on their feet soon. That's at least one area both video game and tabletop game studio closures have in common; lots of talented individuals potentially find themselves out of work.
Staff Writer for CinemaBlend.
Your Daily Blend of Entertainment News
Thank you for signing up to CinemaBlend. You will receive a verification email shortly.
There was a problem. Please refresh the page and try again.