Is Overwatch Hinting At A Brand New Hero?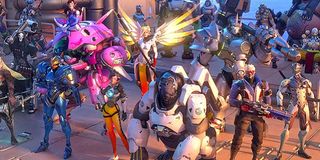 Based on a recent "declassified after-action report," it looks like Blizzard could be gearing up to introduce a new character to the Overwatch roster. But who, exactly, is Private First Class Emre Sarioglu?
The above tweet went live on the Overwatch twitter feed heading into the weekend. In it, we get a brief snippet of information about Operation White Dome, which pitted members of an Overwatch squad against some rowdy Omnics. Apparently a shootout occurred with a near casualty on team O-watch.
What's worth noting here is the cast of characters who were sent out on the mission, including Captain Ana Amari, Lieutenant Reinhardt Wilhelm, Chief Engineer Trobjorn Lindholm and Private First Class Emre Sarioglu. Fans of the series likely had their ears perk up at that final name, as they are not a known member of the current Overwatch cast. The initial trio includes Ana, Reinhardt and Torbjorn, respectively, but Sarioglu is a newbie.
This has, of course, got fans speculating that Blizzard is preparing Overwatch's 27th hero. That speculation is buzzing around for a number of reasons. First, and as pointed out deep in the replies, Overwatch Director Jeff Kaplan reently stated that a hint about a new character was inbound. A forum poster asked for details and Kaplan's reply was that it was "incoming, brace for it."
Within a day, the above tweet went live. Again, there's nothing really noteworthy about the tweet outside of the mission name (doesn't seem too important) and a fourth team member that we've never heard of before. Given Blizzard's history of teasing characters in this manner, it seems likely that Sarioglu, whomever they are, is being given that same treatment.
It's also worth noting that it's been a while since the Overwatch roster received a new member, which would make now a pretty good time to roll one out. Also, with Overwatch League cruising right along, and a big free weekend recently wrapping on all platforms, now would be a good time to keep the hype train rolling with teases of a brand new playable character.
Speaking of Overwatch League, we wouldn't expect Sarioglu to be released or even available for public testing until the first wing of the season wraps. We doubt Blizzard would want to distract folks from one major Overwatch event by with the introduction of another. Also, you probably don't want to screw with the game's meta too much while a major tournament is active.
Either way, we're excited to see where the next stop on the hype train takes us. We figure a couple more cryptic tweets and mission reports are in order, probably with some sort of less-than-informative image tagged to one, and then maybe a proper reveal trailer.
Then again, maybe Steve got hold of the Overwatch twitter account and decided to create some chaos. That would be so like Steve.
Your Daily Blend of Entertainment News
Staff Writer for CinemaBlend.