Assassin's Creed Origins' Newest DLC Has Killer Gods And Giant Scorpions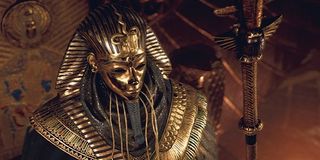 The latest Assassin's Creed Origins DLC, The Curse of the Pharaohs, is now live, boasting everything from undead enemies to giant scorpions. Yep, that's a decided change of pace from the more grounded yarns the series typically spins.
Launching a week later than originally intended, The Curse of the Pharaohs is the second, and presumably last, piece of major DLC getting added to Assassin's Creed Origins. Regular updates and in-game events are still scheduled to keep rolling out but, as far as the Season Pass is concerned, this latest mummy-filled adventure is the end of the road.
Most of the Assassin's Creed narratives have been pretty believable, so long as you're into the idea of shadowy organizations pulling the strings of society while a group of uuber-ninjas aims to hold them accountable by dispatching those who have become too corrupt. Sure, it's all a bit over-the-top, but the stories in Assassin's Creed games usually try to keep to the believable side of fiction.
Not so with Curse of the Pharaohs, which is taking full advantage of Origins' Egyptian setting and digging into the mythology rather than the history this time around. According to Ubisoft, this latest romp takes place about four years following the main game's story. You'll be taking on the role of Bayek once again, only he won't be fighting corrupt leaders or an invading Roman force. Instead, he's heading to the Valley of the Kings to investigate a curse that sees long-dead pharaohs returning from the dead.
During the new campaign, you'll find yourself exploring Thebes in order to find out what is causing these recent undead dilemmas to arise. You'll also battle mythological creatures along the way, like massive scorpions, as well as go toe to toe with the gods themselves.
This latest expansion for Origins is available now across PlayStation 4, Xbox One and PC, and the above trailer should help you make your purchasing decision if you're not quite convinced. If you're not into the idea of a more fantastical slant in your Assassin's Creed games, perhaps you'll want to sit this one out. If you're cool with going all God of War in Egypt, though, then you can add The Curse of the Pharaohs to your game for 20 bucks. Of course, if you already have the Season Pass, then you can get to downloading this new content at no additional charge.
On top of the new story bits, you'll earn new weapons, outfits and gear. You'll also be able to level your character up to 55 following download.
Origins has evolved into the game that keeps on giving, so we'll be interested in seeing if Ubisoft decides to keep the story going via another Season Pass in the coming months.
Your Daily Blend of Entertainment News
Staff Writer for CinemaBlend.