DOOM Is Getting A 4K Upgrade On Consoles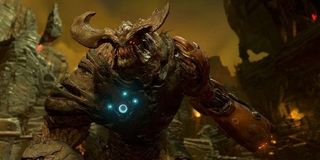 DOOM may be more than a year old at this point, but the folks over at Bethesda are proving that it's never too late to clean house and spruce things up a little. As a matter of fact, the game is getting a 4K update on consoles this week.
DOOM already looked pretty slick on consoles, so long as you're talking about the PlayStation 4 and Xbox One. That's not meant as a knock on the Nintendo Switch version of the game, which does an admirable job of making the game look solid on what is basically a glorified tablet. But now that the PlayStation 4 Pro and Xbox One X are basically the standard version of Sony and Microsoft's consoles, more and more games are getting a graphical facelift to take advantage of the enhanced technology.
As noted on the Bethesda blog, that's exactly what's happening with DOOM, due to get a 4K upgrade Thursday, March 29. While this update won't mean much to folks playing on the OG versions of the consoles, it should result in even more impressive visuals if you're rocking a Pro or X and also happen to have a 4K television. According to the announcement, now might be a good time to dive into DOOM whether you're an old hand or planning your first trip to hell.
Every blast of the BFG, every demon glory kill and every chainsaw slice through a Mancubus can be experienced like never before on consoles. Whether you're a new player or just eager to jump back into your Praetor Suit, you're going to want to visit Hell to experience it for yourself.
The enhanced systems have been out for a while, so DOOM certainly isn't the first game to get a 4K upgrade. It'll be joining the likes of Assassin's Creed Origins, Rise of the Tomb Raider, Shadow of War, Forza Horizon 3 and Gears of War 4, just to name a few. Those games look great no matter which platform you're playing them on but, according to critics and fans alike, they look better than ever when running in full 4K glory. In other words, we figure DOOM will offer a visual upgrade on par with these other big titles, which might be a bit frightening considering how gnarly some of the baddies already look in standard HD.
Bethesda has posted a few videos and screenshots of what DOOM looks like in 4K on that same blog post, though they're age gated due to the fact that it's DOOM we're talking about. If you want a better idea of what to expect out of the 4K update, be sure to drop by and poke around.
Staff Writer for CinemaBlend.