A Way Out Has Hit A Massive Sales Milestone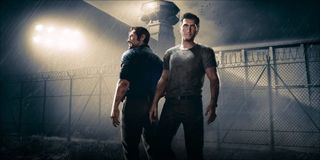 (Image credit: Hazelight)
Hazelight Studios' A Way Out came onto the scene as a mid-budget homage to the old-school buddy-up movies of the yesteryears. With the over-the-top promotion of the game by director Josef Fares and a solid gameplay core, the game managed to hit a sales milestone shortly after releasing.
In a tweet on the official Hazelight Studios Twitter account, the company revealed that in just two week's time A Way Out managed to sell a million copies across PC, PS4 and Xbox One.
The game's sales milestone is a huge boon for Hazelight because it means that mid-budget games can be profitable when given a moderate marketing budget and afforded to reach an audience outside of the typical Call of Duty demographic.
A Way Out received some of its biggest promotion during last year's The Game Awards, when director Josef Fares flipped off the Oscars and praised video games for allowing creators to explore topics and interactivity in ways that can't be done with movies. Fares' rant went viral, and while some people disliked Fares for being so vocal about certain things in such a provocative way, others commended the director for taking digs at the Hollywood machine.
The outspoken creative director definitely helped put some eyes on A Way Out, which is a two-player cooperative, cinematic, action-adventure game. It transcends a lot of the basic demarcations associated with certain types of genre-specific gaming traditions and focuses more on telling a story about two guys, Vincent and Leo.
The game isn't confined to just a single type of gameplay preference, as you'll have to use subversion and talking to NPCs to get through some segments, while in other areas you'll have to explore and platform, and in other scenarios you'll find yourself using stealth tactics.
In some cases you'll find yourself engaged in car chases, shootouts, and even some cool fight sequences, with one particular fight being a nice little head-nod to Park Chan-wook's Oldboy.
The game never really settled on just one particular type of gameplay experience, which is what netted it some high praise from gamers and critics alike. Additionally, the game can only be played cooperatively, there is no single-player option. You can either play the game in local split-screen or play it as an online split-screen title, giving you some options in how you enjoy A Way Out.
I think a large part of the appeal is also in the fact that the game has a rather intriguing story that starts as a title about a prison break but then begins to evolve into something so much more the further in you play and the more you progress. The endings have definitely left a lot of people debating what happened, but it appears as if the risk of making a story-focused co-op title was definitely well worth the investment given the sales so far.
Your Daily Blend of Entertainment News
Staff Writer at CinemaBlend.