Western MMO Wild West Online Is Leaving Steam Early Access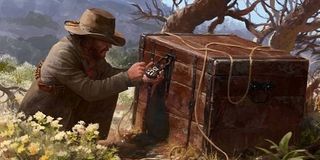 If you're looking to spend your summer days on the back of a horse, tracking down desperados and robbing banks, then you'll likely want to check out the new action MMO, Wild West Online. As a matter of fact, the developers have announced that the game will be exiting early access and launching on Steam early next month.
Those in the mood for cowboy life will want to mark their calendar for May 10. That's the day Wild West Online will be launching in earnest, opening its saloon doors wide for all comers. Based on an announcement from the dev team, the game has grown quite a bit since we last saw it in action, with community feedback leading to expanded features and gameplay option in order to "create a compelling experience" for next month's launch on Steam.
If you've taken a look at any of the game's screenshots or early trailers, you wouldn't be faulted for thinking Wild West Online looks a heck of a lot like Red Dead Redemption. But while Rockstar Games' cowpoke series isn't expected to continue until this fall, you can get in all the six-shooter antics you like starting next month with WWO.
The launch press release notes several key features that have been added to the game in recent months. For starters, there's going to be a rival faction global conflict within the game world, not unlike what's been beating at the heart of World of Warcarft for the past decade. Random PvP events will also happen randomly throughout the world, which puts a fun competitive spin on, say, public events in Destiny. In the WWO version, players will be competing against other players to get their hands on some rare loot.
NPCs within the game world have also been given more PvE quests to give out to players, and additional activities have been added or expanded including mining, farming, hunting, cooking, brewing and more.
If you feel like pre-ordering the game on the official website, you'll receive a Steam key when Wild West Online goes live, as well as special bonus items. These include entry to the early access version of the game as soon as you make a purchase, 10 bags of cosmetic good to alter the look of your player (valued at 20 real world bucks), 10 bags of gun customization parts (also valued at 20 bucks), and access to the final build of the game two days before everybody else.
There are three tiers of purchasing option, including Townie, which will set you back $30 for the full game and 50 slots of in-game storage. The Pioneer and Collector versions will set you back $49.99 and $89.99 respectively, and they include additional perks like more storage and oodles of in-game items.
Staff Writer for CinemaBlend.
Your Daily Blend of Entertainment News
Thank you for signing up to CinemaBlend. You will receive a verification email shortly.
There was a problem. Please refresh the page and try again.