Two Classic Mega Man Games Are Getting An Old-School Cartridge Release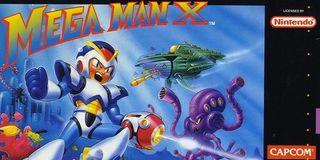 It can be hard to track down some classic games, which is why it's always cool to see an old-school favorite receive a re-launch. That's exactly what's happening for a pair of fan-favorite Mega Man games, soon to hit the scene as fully functioning past-gen cartridges.
Maybe they aren't as easy to store as discs, but we still have a warm spot in our hearts for those durable, plastic game cartridges you used to have to pop into consoles like the NES and SNES. Sometimes, though, those old games can be hard to track down in order to add them to your collection. Thankfully, companies like iam8bit are here to save the day. One of their latest projects: Mega Man 2 for the NES and Mega Man X for the SNES.
In case you haven't caught the news, this year is the Mega Man series' 30th birthday. To celebrate, all sorts of collections are hitting the shelves, including classic Mega Man games for the Switch and the Mega Man X games for pretty much every modern platform. What sets these iam8bit offerings apart, though, is that they are specially-made reprints of the original game cartridges, and they actually work on the original hardware. You know, stuff like this makes me wonder why Nintendo didn't think to include cartridge slots in their recent classic consoles. They wouldn't be as small, of course, but a brand-new working version of an NES or SNES sure would come in handy for collectors.
Back to the matter at hand, though, these new versions of old Mega Man games aren't exactly cheap. They'll set you back $100 a pop, but at least they come with all of the bells and whistles. Both games come with a dual- or tri-fold box with fancy foil and gloss embossments, a premium instruction booklet and a "retro pack-in surprise." Also, we should probably note there are only 8,500 of each available, so you might want to move with a quickness if this is something you feel you simply must add to your collection.
While you're on the site, you might want to do a little poking around while you're at it. You'll find a similar version of Street Fighter II, for instance, as well as stuff like an SNES version of Hyper Light Drifter, hard copies of REZ Infinite and a whole bunch of stuff for Persona 5. Venturing out of the realm of games, you'll also find an entire section of content dedicated to The X-Files, as well as stuff like books, art prints and vinyl albums.
If you find anything particularly noteworthy, be sure to let us know in the comments below.
Your Daily Blend of Entertainment News
Staff Writer for CinemaBlend.
Your Daily Blend of Entertainment News
Thank you for signing up to CinemaBlend. You will receive a verification email shortly.
There was a problem. Please refresh the page and try again.