Play Star Trek: Bridge Crew Aboard The Enterprise-D In New Next Generation DLC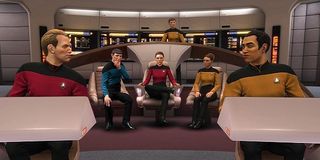 Star Trek: Bridge Crew has already made dreams come true for fans of both sci-fi and VR gaming, and the game's first DLC is about to shift that excitement to warp speed. Get ready to boldly venture to The Next Generation.
Red Storm Entertainment designer Hunter Janes recently popped by the PlayStation Blog to fill everyone in on Star Trek: Bridge Crew's first major expansion, The Next Generation. Set to arrive on May 22, this DLC does more than just introduce a new ship to the game's collection; it also boasts all sorts of new mission types, objectives and enemies, including the freaking Borg.
For those unfamiliar with Bridge Crew, it's a rad VR game that literally drops players into the role of crew members within the Star Trek universe. The team recently made it so the game can actually be played without VR, though, so don't feel like you need a helmet to enjoy the game.
There's a lot to do on a ship. You need to plot a course, steer the ship, scan various objects in space, negotiate with other ships, load torpedoes, fire said torpedoes, focus shields, redistribute power, and the list goes on and on. As a member of the Bridge Crew, you'll be able to take on the role of one of the ship's main crew, handling your various tasks in order to ensure the team's success. You can either play solo or with an incomplete party and hot-swap from role to role however you like, or you can jump into a full crew and adventure while everyone conducts their assigned duties. The game relies on constant communication and teamwork, which is why it has been such a hit with the VR crowd.
But, while a pair of ships and themed content were available in the core game, the PS Blog post makes it clear that Star Trek fans were eager to get content for The Next Generation. So, that's exactly what's being delivered. It looks like the DLC will cost about $15 when it arrives, and it will include the fan-favorite Enterprise-D (NCC-1701D). Since the ship has some new capabilities, a new position has been introduced to the bridge known as Operations, which will take the place of the Engineer.
There's a lot more to this DLC than a new ship and outfits for the crew, though. You'll encounter Romulans and the Borg in the game now, avatars can now be Soong-type androids, new mechanics have been added, old mechanics have been retooled and new Ongoing Voyages have been added into the game, giving players far more missions to tackle solo or with a team. And, just for fun, the ship has access to a functional Planet Killer weapon. Neat!
A lot of details have been shared for the new Next Generation missions, so you'll want to check out the full post if you crave additional details before Bridge Crew's May 22 update.
Your Daily Blend of Entertainment News
Staff Writer for CinemaBlend.
Your Daily Blend of Entertainment News
Thank you for signing up to CinemaBlend. You will receive a verification email shortly.
There was a problem. Please refresh the page and try again.