Cliff Bleszinski Shuts Down Boss Key Productions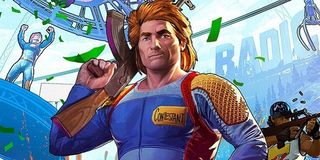 Following the premature death of his studio's first major game and a follow-up that was failing to make a big splash, Cliff Bleszinski has announced the closure of Boss Key Productions and his decision to step away from the industry, at least for the time being.
Many would argue the writing was on the wall for Boss Key Productions while others held out hope that the studio's most recent efforts would somehow save the day. As of this week, though, Bleszinski has confirmed the former, announcing the closure of his studio.
In the above tweet, Bleszinski explains that the men and women of Boss Key put in four years' worth of solid work to create two games. The former studio head argued that their first game, LawBreakers, simply failed to find an audience while their follow-up, Radical Heights, was simply "too little, too late."
Last year, LawBreakers hit the scene with a resounding thud. An arena shooter, it was battling for attention alongside games like Overwatch, and it also happened to arrive just as PUBG was becoming a mega-hit. LawBreakers was well received, noted for being highly polished and, despite some uninspired world and character design, it provided a fast and frantic take on the genre with some very clever manipulation of gravity. I actually had a lot of fun during my time with the game, but it simply never managed to find an audience.
Just as Boss Key was announcing that it would cease development on LawBreakers, the team followed up with an announcement that a new game was already on the way. This new game sported a very fast turnaround, which is why it was being introduced to the world as a free-to-play, very early beta. That game was Radical Heights, yet another entry in the battle royale arena. As Bleszinski points out in his message, Radical Heights was pretty well received but, again, it was unpolished and very early on in development, and that's no way to try to grab a piece of the pie currently being gobbled up by games like Fortnite.
Similar to LawBreakers, Radical Heights' player count dropped off quickly, though its all-time peak was several thousand above its predecessor. Still, the 24-hour concurrent player count is no longer breaking 700, which isn't enough to keep a game like this afloat.
Bleszinski took a moment to share some nice comments about his team before explaining his personal plans following the studio's closure. He said he's going to take some time off in order to reflect and focus on both himself and his family. The good news for Bleszinski fans is that he mentions a desire to return to creating someday, though not until he gets a breather.
Staff Writer for CinemaBlend.