One Country Will No Longer Be Represented In Pro Evolution Soccer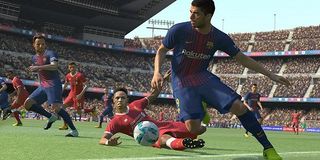 Despite being a popular sports game, Konami's Pro Evolution Soccer has had trouble holding on to its licenses in recent months. The most recent departure from the game's roster effectively discludes an entire country from the series' upcoming iteration.
Earlier this year, we learned that Pro Evolution Soccer would be losing its UEFA license. Now we've got word that the only proper German club planned for inclusion in the game, Borussia Dortmund, has prematurely cut off their contract.
This came as a surprise to Konami, according to a report from Polygon, as the PES license was supposed to run through 2020. The latest iteration of the game, PES 2019, is set to launch in just a few months. In fact, Konami had used Borussia Dortmund in promotional images for the game up to this point, which is why they felt the need to announce the unexpected split. They didn't want players going in expecting to play as the team after seeing its athletes in various screenshots.
Unfortunately, we have no further details as to why Borussia Dortmund decided to back out of their ongoing deal so early and, as far as we've heard, they haven't simply jumped ship to the only other major soccer game on the planet, FIFA. Still, we wouldn't be surprised to see either entity suddenly pop up in EA's latest game. This is a business, after all, and EA has buckets of resources to draw from.
According to Konami, this move means that no German team will be present in the latest version of PES. That's a little surprising, as their roster is already something of a mixed bag, with licensed teams joined by several generic squads. If they don't have the license, they frequently create a team without using actual players, logos and the like. In the case of Borussia Dortmund, it might just be that there simply isn't enough time to create a mock team to take its place. PES 19 launches on the Xbox One, PlayStation 4 and PC on Aug. 28, so we wouldn't be surprised if the game is just around the corner from going gold.
We consider this a shame because competition can be productive. If PES continues to lose licenses, Konami may decide to simply let the series fade. They could always go with a game comprised totally of generic teams, but many fans are more interested in the "realism" of playing as their favorite athletes. Without this kind of competition, EA would have fewer reasons to make major advancements with FIFA. We're not saying they'd simply let their own series stagnate, just that going toe-to-toe with a rival typically makes for better games in general.
Your Daily Blend of Entertainment News
Staff Writer for CinemaBlend.
Your Daily Blend of Entertainment News
Thank you for signing up to CinemaBlend. You will receive a verification email shortly.
There was a problem. Please refresh the page and try again.