Jade Returns In New Beyond Good And Evil 2 Cinematic Trailer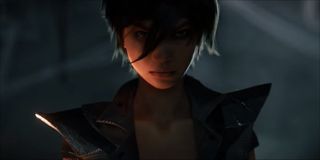 Ubisoft has returned to the stage of E3 to showcase a bunch of new games, as well as to talk about lots of new content coming to existing games. One of those games discussed at this year's event was Beyond Good and Evil 2. As some of you know, Ubisoft re-introduced gamers to the franchise recently after the big cinematic reveal last year during E3. Well, this year, not only did Ubisoft come back with the game but the company also dropped some new gameplay footage, and a new cinematic for open-space adventure featuring the heroine from the first game, Jade.
The cinematic trailer that Ubisoft released clocks in at just under four minutes, and it starts with a look at an icy planet where the pirate ship is stationed. We see the crew mucking about on the ship and just doing their business. However, the lackadaisical nature of the crew is quickly disrupted when a giant wall of ice comes crashing toward them like some kind of massive wave.
Out of the ice storm, an even bigger capital ship emerges, like some kind of black cloud looming over a forsaken city. In this case, the capital ship reaches out some mechanical tendrils and crushes the pirate ship where Knox the monkey, and the rest of the crew, are located. It pulls the pirate ship into its bay using the tendrils, and while the crew is stunned and confused, a young woman with a sword emerges along with some armed soldiers.
The cook, who happens to be a pig, looks up and murmurs "Jade."
What's a little odd here is that Ubisoft has repeatedly said that Beyond Good and Evil 2 is a prequel, and yet Jade was from the original Beyond Good & Evil. The thing is, if it's a prequel, how can she be older here than in the first game?
Some seem to think that, perhaps, this actually isn't the same Jade, but rather her mother. Obviously, the trailer leaves a lot of people scratching their heads trying to figure out exactly how this all fits in with the story that's eventually told in the original Beyond Good & Evil, as well as what happens to Jade that leads up to the original game.
Interestingly enough, Beyond Good & Evil 2 will not see you playing as Jade. Instead you'll be playing as your very own custom character -- a pirate who starts off as a delivery person and eventually works their way up to owning their own massive pirate ship.
During the press conference, they also announced that Beyond Good & Evil 2 will be built in collaboration with Joseph Gordon Levitt's company, HitRecord. As explained in a tweet, gamers will be able to contribute music and art that will appear in Beyond Good & Evil 2.
The game is still a long ways off from release, but Ubisoft is taking in feedback during the testing phase of development.
Staff Writer at CinemaBlend.
Your Daily Blend of Entertainment News
Thank you for signing up to CinemaBlend. You will receive a verification email shortly.
There was a problem. Please refresh the page and try again.