Sea Of Thieves Has 5 Million Players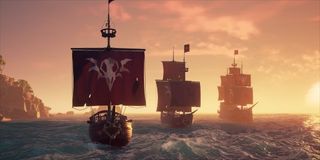 (Image credit: Rare)
It wasn't easy sailing the seas toward success. Rare learned firsthand that trying to lure in millions of gamers to a game, and trying to keep those million of gamers there is no easy task. In fact, Sea of Thieves dropped back in March with a ton of anticipation but ended up with a lot of "mehs" and "ehhs" from users when it came to the scores and feedback. There just wasn't enough meat on a big 'ole bone that people seemed to love to chew on; they needed more. Rare eventually found a fine balance of giving gamers what they wanted and retaining the identity of Sea of Thieves throughout spring and summer, including adding in a Megalodon. And now like the phoenix rising out of the ashes with a burning desire to be remembered, Sea of Thieves has managed to accrue an impressive 5 million active players.
The news was rolled out over on the Xbox Wire site where the revelation was made that, after releasing the Sea of Thieves: Cursed Sails update, the company managed to rack up 5 million players who joined the game. Joe Neate, the executive producer at Rare, was all too ready to share the exciting news with the general public, hoping to further increase the popularity of the game and continue to lure in more gamers to try out Sea of Thieves on Windows 10 or Xbox One.
In the post, Joe Neate also reveals that they've racked up a cumulative of 300 million views across YouTube and more than 40 million broadcast hours on Twitch. Neate attributes these numbers to the "unique" social atmosphere that Sea of Thieves fosters given its PvPvE-style setup, which is slowly becoming the new genre for some developers to dive into, sort of like The Division or the survival game Rend.
The free update introducing the Cursed Sails was part of Rare's ongoing attempt to keep the consumers happy and give an opportunity to lure in newcomers who might be interested in checking the game out. The ability to sail the seas and encounter the new skeleton NPCs is enough to really help elevate the game's appeal. This means that the ship-to-ship battles aren't just between other players, but now you'll have to watch your six as enemy AI will be sailing out on the seas and will attack your ship at random.
Rare also introduced a brand new three-man ship known as the Brigantine. This is a medium sized ship in between the two-man sloop and the four-man ship. It creates a more balanced approached for those who want something big enough to do damage and fast enough to chase down other pirates, but not something that requires a whole lot of micromanagement.
In addition to this, Rare has added an Alliance mode that allows people to meet up together and form groups from anyone around the world. These features all tie into a three week limited-time campaign that introduces new goals and rewards for each of the three weeks where the campaign is active.
If you miss out on the campaign, don't worry. Many of the features that will be introduced into the event will carry over into the rest of the game even when the event ends.
You can check out Sea of Thieves: Cursed Sails right now for Xbox One or Windows 10 on PC.
Staff Writer at CinemaBlend.
Your Daily Blend of Entertainment News
Thank you for signing up to CinemaBlend. You will receive a verification email shortly.
There was a problem. Please refresh the page and try again.