Call Of Duty: Black Ops 4 Battle Royal Beta Begins In September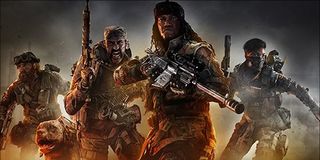 Ahead of the announcement for Call of Duty: Black Ops 4, everyone was talking about whether or not Activision would include a Battle Royale mode for the highly popular first-person shooter. The Battle Royale craze is currently the most popular gaming sub-genre in the hardcore and mid-core sector of gaming. Of course, when Call of Duty: Black Ops 4 was formally announced, it was revealed that the game would come with a Battle Royale mode. However, Activision has been more than coy about keeping the mode under wraps and we've yet to properly see it in action. It appears Activision and Treyarch are more about showing rather than telling, or, playing rather than showing, because gamers will have their firsthand look at the Battle Royale mode in Call of Duty: Black Ops 4 by actually being able to play it for the very first time with a beta set to go live this September.
The announcement for the beta set to begin on September 14th was confirmed through the official Call of Duty Twitter account. There's a quick 19 second clip that prepares gamers for the September beta for Call of Duty: Black Ops 4's Battle Royale mode, which is aptly named Blackout.
The 19 second clip isn't very long but it is very illuminating. For instance, we learn what sort of options will be present in the Blackout mode, including the ability to play solo, duos, and quads.
To further break this down, the solo mode is for those who just want to play last man standing against 99 other people and attempt to become the last man standing. It's every single person for themselves and everyone will attempt to backstab their way to victory. This is the mode that became super popularized in PlayerUnknown's Battlegrounds and helped put the Battle Royale mode on the mainstream map.
The duos mode is for two people, teaming up and working together in order to survive. This is mirrored after The Hunger Games, where teams of two attempted to work together in order to take down the other teams. The quads mode sees teams of four working together in order to survive against other teams of four, where the last group standing wins.
The duos and quads modes were added to games like Fortnite and PlayerUnknown's Battlegrounds after the games became widely popular, because people had a tendency to group up during the solo modes. Many felt as if it was cheating to team up with another player and work as a team to take down other players. Epic Games even punished some players for teaming up in the solo modes, but later added the group function to balance everything out.
Gamers will be able to see how each of the play modes work in Call of Duty: Black Ops 4 and determine if Battle Royale is a good fit for Activision's premiere first-person shooter franchise. The mode will include vehicles, a sandbox map, and plenty of ways to cause destruction.
You can look for the private beta to get underway starting September 14th for those who pre-ordered the game.
Staff Writer at CinemaBlend.
Your Daily Blend of Entertainment News
Thank you for signing up to CinemaBlend. You will receive a verification email shortly.
There was a problem. Please refresh the page and try again.