Two Diablo Characters Blizzard Would Love To See In Super Smash Bros.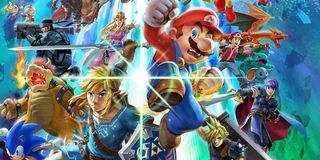 Which Diablo characters would you like to see appear in Super Smash Bros. Ultimate? That was a question recently posed to a couple of the company's higher-ups, and they were ready with a few answers. From Diablo himself to the cane-wielding Deckard, the short answer was "just about everybody in the game."
The above response comes from Blizzard Senior Producer Pete Stilwell in a recent interview with Game Informer. Apparently, Team Blizzard was being chatted up around the time of the recent Smash Direct introducing the Belmonts and King K. Rool to the game's roster. From there, the question of which Diablo character would be a good fit for the game popped up, resulting in a quick nod to the titular demon himself. After Diablo, apparently all seven or so of the character classes were number two on the list, followed by the unexpected Deckard Cain.
Blizzard PR Manager Joshua Wittge chimed in, explaining how Cain's cane could be put to good use. The guy's an elderly scholar whose primary job is to provide the player with information, after all, so he's certainly an interesting pick.
Of course, this conversation was also likely fueled by the rumored and then recently confirmed fact that Diablo III is heading to the Nintendo Switch, complete with all of the game's previous content and modes, as well as some console-specific content themed after The Legend of Zelda. As the original story notes, the launch of Diablo III on the Switch will mark the first time the two entities have partnered up in two decades, which is a pretty big deal.
Still, despite Nintendo's recent move to make new friends and rekindle old alliances, we're not holding our breath for a Diablo reveal in Smash. That's primarily because, if we say it isn't likely to happen, then there's a greater chance it will actually happen. That's how this stuff works, right?
I mean, Nintendo has flat-out said that a couple more characters have yet to be announced for the new brawler, so maybe there's a chance Diablo will get dropped into the fray as an unexpected third party addition, right? If Final Fantasy VII's Cloud can just crash the party, why not the lord of hell?
We'd be interested in hearing your predictions on the final roster slots for Smash in the comments below. I've already got dibs on Monster Hunter (as in a hunter from the series by the same name) and just about every other character in every other video game is already included, so good luck!
Staff Writer for CinemaBlend.
Your Daily Blend of Entertainment News
Thank you for signing up to CinemaBlend. You will receive a verification email shortly.
There was a problem. Please refresh the page and try again.