Watch The First Gameplay Of Cyberpunk 2077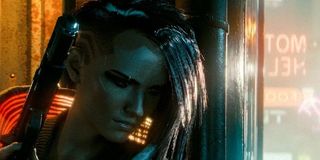 Fans eager to see Cyberpunk 2077 in all its neon-tinged glory have finally been rewarded with a rather lengthy gameplay demonstration highlighting nearly an hour of futuristic action. While CD Projekt Red stresses this is not a final build of the game, it's clear that they're deep into development of what is shaping up to be a very impressive RPG.
Back at E3 2018, some members of the press were invited to a behind-closed-doors session to see Cyberpunk 2077 in action. What you're seeing above is that very same footage, revealed through CD Projekt Red's Twitch stream following some playful teasing. At Gamescom last week, the developer rolled out some new in-game assets and concept art but, again, no gameplay footage was shown to the general public. This morning, the CD Projekt Red Twitch stream displayed what appeared to be some heavy-duty hacking going on, with the above footage eventually being revealed.
The lengthy gameplay video kicks off with character customization, making it clear the player will have an impressive amount of control over what their avatar looks and plays like. Being an RPG, you get to make additional creation choices and assign stats that will have a lasting impact on how you play the game. Taking on the role of V, the demonstration features a search and rescue operation for a cyborg that has gone missing. There's a lot to take in, including exploration, firefights, flying a drone and even driving through Night City. If you've got the time and are interested in the game, you'll definitely want to grab a snack and tuck in for a full viewing.
What I find most interesting is how cautious CD Projekt Red is being with this footage. In a statement released with the video, the team reminds viewers that what is on display is not necessarily what you will see in the finished product. Not all of the assets are finished, not all of the systems are finalized and things like bugs and visual glitches have not been worked out just yet. It's further explained that, while the team was comfortable showing this footage to the press, they were worried about letting it get out to the general public, due to the game's incomplete nature. It's the kind of thing the internet will pick apart, after all, and they don't seem too eager to give false expectations on either side of the spectrum.
As for when we'll finally be able to play the game ourselves, we're still waiting for that elusive launch window to pop up. Cyberpunk 2077 is set to launch on the PlayStation 4, Xbox On and PC, but still no word on when that will be. All we know for sure is that the game is playable from start to finish at this point but, with a game this big, those "finishing touches" could take quite a while to complete.
Staff Writer for CinemaBlend.
Your Daily Blend of Entertainment News
Thank you for signing up to CinemaBlend. You will receive a verification email shortly.
There was a problem. Please refresh the page and try again.