Go Behind The Scenes Of The Newest Overwatch Short With Director's Commentary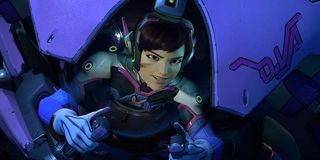 What goes into making one of those fancy Overwatch shorts? That's the topic of discussion of a follow-up video to the recent "Shooting Star" clip, which takes viewers on a behind-the-scenes tour in the form of director commentary with Ben Dai. From tricks of the trade to clever details you might have missed, it's an even deeper look at the wonderful animated adventure starring everybody's favorite pro gamer turned hero, D.Va.
Last week, Blizzard launched "Shooting Star," the latest in its series of featurettes giving additional backstory to the characters of Overwatch. In the video, we see D.Va stuff her face with junk food while working on her trusty exosuit. It wouldn't be a very exciting story if all hell didn't break loose, which is exactly what happens as D.Va is once again forced to leap into action and make some risky decisions. I'll leave the actual plot for you to discover on your own or, better yet, alongside the folks who actually worked on it.
The above behind-the-scenes commentary features director Ben Dai and editor Jake Patton, who offer some great insight into the process they went through to create the seven-minute Overwatch video that has us begging for either a full-length movie or, better yet, an animated series. You'll probably want to watch the video without commentary first, though, because the duo does a good job of keeping the details coming throughout.
As the guys point out, the big focus of "Shooting Star" was to show players what the D.Va is really like when she's not front and center in the public eye. She's a glitz and glamor celebrity in the game's real world, but she clearly takes her role within Overwatch very seriously. Rather than go out and party, she'd rather hang out in the shop and work on her mech. And she's clearly willing to sacrifice everything in order to keep the world safe.
It's cool getting to hear about Dai and Patton's thought process behind creating D.Va's story, as well as their inspirations for various scenes pulled from sources like anime. If you've got an extra seven minutes, it's definitely worth a watch.
As for D.Va's home turf, it's the focus of the latest map to enter Overwatch's rotation. Revealed during the Gamescom conference, the map is simply called Busan, and it boasts a trio of locations for players to lock down. The three districts of the map are called Sanctuary, Downtown and Meka Base, and they all offer a unique style and layout that should be fun for teams to learn how to control.
Also big in Overwatch news is the impending second season of Overwatch Leage. September is about to kick off, so we're hoping to soon learn more about any additional teams that will be added in time for the next season of competition.
Staff Writer for CinemaBlend.
Your Daily Blend of Entertainment News
Thank you for signing up to CinemaBlend. You will receive a verification email shortly.
There was a problem. Please refresh the page and try again.