Microsoft May Be Buying Fallout: New Vegas Developer Obsidian Entertainment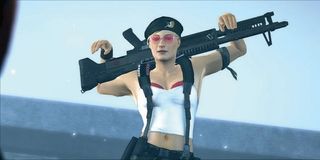 (Image credit: Obsidian Entertainment)
Major studio acquisitions don't happen often, but when they do, it's usually big news because it can completely change the landscape of gaming, depending on who acquires who. In this case, there are rumors floating about that Microsoft could be interested in picking up Obsidian Entertainment.
According to Kotaku, there were various sources that told them that Microsoft was interested in purchasing Obsidian Entertainment, the same studio that brought you the highly praised Pillars of Eternity and its sequel Pillars of Eternity 2. Both games were crowdfunded through the gaming community instead of being funded through the traditional publisher financing. Of course, if Microsoft did acquire Obsidian then the next game in the series would be published by Microsoft and not the community.
The site is reporting that someone close to the project has told them that the deal for Microsoft to acquire Obsidian is "90% finished," which would mean that an announcement might be coming soon regarding the acquisition, if the news is true.
Obsidian fell on hard times at one point after coming off huge successes like Star Wars: Knights of the Old Republic 2 when a game that the company was hired to work on failed to meet the internal Metacritic score that would have allowed the studio to earn a bonus and continue operating at full speed. The game was Fallout: New Vegas, and the publisher was Bethesda. The lack of bonuses forced Obsidian to lay off some of the staff, but the company managed to slightly recover with other projects under publishers like Ubisoft, working on games like South Park: The Stick of Truth.
A couple of years later the company took to the crowdfunding sector with the Kickstarted project Pillars of Eternity, which turned out to be a stable success, leading to Obsidian joining up with inXile Entertainment to start up the crowd-investment portal, Fig.
If it's true that Microsoft has acquired Obsidian, then that would mean that the company joins a host of other studios brought under Microsoft's wing to work on a number of exclusive projects. In fact, this rumor definitely holds some weight based on Microsoft's actions in the recent past. During this year's E3, the company announced that a number of exclusive titles were in the works for the Xbox consoles and that the company had also acquired Ninja Theory, the makers of Hellblade: Senua's Sacrifice.
If Microsoft did acquire Obsidian, one would have to wonder exactly what sort of projects the publisher would have the developer working on?
Obsidian really made a name for itself through CRPGs, which haven't always translated well to home consoles. One would have to wonder if Microsoft would push for Obsidian to help rebuild its PC gaming market or if Microsoft would have Obsidian working on other, more story-oriented console RPGs, like Alpha Protocol, in order to help give the Xbox brand some unique exclusives all its own. I suppose we'll find out soon enough if the rumors happen to be true.
Staff Writer at CinemaBlend.
Your Daily Blend of Entertainment News
Thank you for signing up to CinemaBlend. You will receive a verification email shortly.
There was a problem. Please refresh the page and try again.