Fortnite's Save The World Mode Won't Be Free-To-Play This Year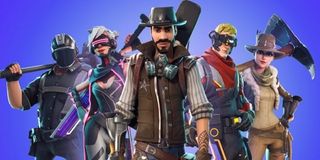 While Fortnite's Battle Royale mode has always been free to play, the mode that started it all, "Save the World," is still a for-pay early access experience. According to Epic, that's not changing this year.
This news comes from a recent blog post over on the Fortnite website specifically focused on the game's Save the World mode. As the update notes, the core mode was planned to move out of early access and become a proper free-to-play experience this year, but the developer has decided to take some extra time and continue fine-tuning the mode to prepare for an official launch.
Believe it or not, Save the World got rolling back in July of 2017. After a few much-needed updates, the cooperative zone defense shoot-a-thon started to look more and more like a fully-featured game, with plenty of resource management, more maps to explore, more enemy types to mow down and, of course, Fortnite's trademark building mechanics. Since the mode's launch, players have been able to fork over some real-world money to get in on the action early, with the end goal being to transition the mode to free-to-play for everyone to enjoy. As noted in the blog post, the plan to launch the gratis version of the mode has been postponed in order to keep nailing down all of the finer details.
In other words, the rampant success of the Battle Royale mode has afforded Epic the opportunity to make Save the World bigger and better than they originally planned and, since there's no real rush to roll out the second/original mode for a free-to-play audience, they're going to keep working on it until they think it'll be ready to sink its hooks into even more players.
If you'd rather not wait, though, you can still purchase early access to the Save the World mode, with all of the various pricing models discounted by 50 percent for a limited time. If you're already on board, you'll be getting a couple of Halloween-themed heroes added to your collection free of charge, just as a way of saying "thanks."
If you've got some time, that full update is worth a read. The team talks about the new Hero system that's rolling out for Save the World, as well as alterations to in-game systems and improvements to things like the UI. It's just kind of wild to think that Save the World was everything Fortnite had to offer until the success of games like PUBG encouraged Epic to roll the dice on a new, and free, Battle Royale mode. The rest, as they say, is history.
Your Daily Blend of Entertainment News
Staff Writer for CinemaBlend.