New Kingdom Hearts III Trailer Shows Off The World Of Tangled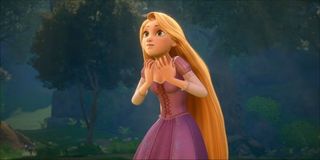 Believe it or not, the wait for Kingdom Hearts III is almost over. We are rapidly approaching the January 29th, 2019 release date for the Xbox One and the PlayStation 4. As the release date nears, Square has been rolling out more promotional content for the game, including a new trailer that shows off the world of Disney's Tangled.
The the trailer was posted on the Kingdom Hearts YouTube channel. The trailer starts with Sora, Goofy, and Donald happening upon the tower where where Rapunzel is being kept. The trio also meet up with Flynn Ryder, who suggests the trio handle all the fighting while he attempts to get Rapunzel away from the tower. We see the three main heroes team up with Rapunzel and Flynn as they travel through the Kingdom of Corona.
In the trailer, we see that Rapunzel plays a fairly significant part in the cinematics, with many of the scenes seemingly coming right out of the film Tangled. I must say, once again, that Tetsuya Nomura and the rest of the crew at Square Enix really knocked it out of the park here. You literally can't tell where Tangled begins and where Kingdom Hearts III ends. The art-styles are so intertwined that you would almost be remiss to think that you were just watching the actual movie instead of playing the game.
Visually, they just nailed the aesthetic and animation style that Disney captured with the animated film -- from Rapunzel's gestures to the way her hair moves. It's some really top-notch work. Apparently spending years honing his art on previous Kingdom Hearts games, and mastering his craft on the very long-delayed but visually impressive Final Fantasy XV, has helped Tetsuya Nomura elevate the way he directs art so as to literally mimic the Disney movie art-styles within Kingdom Hearts.
That's no easy feat when you're including different characters, animation styles, and character depictions across a number of different properties -- including but not limited to Big Hero 6, Ratatouille, and Toy Story. And that's not even mentioning the fact that Pirates of the Caribbean looks completely different from everything else in the game.
But each world will have its own adventure theme and gimmick for players to explore, giving it its own unique flair and identity. In the case of Tangled, we see that there are various interactive elements to explore -- including raising a magical tower, defeating the evil minions around the area, and reenacting some of the sequences from the movie.
If you've been a fan of Tangled and you love the Kingdom Hearts games, you'll be able to experience both together for the very first time when Kingdom Hearts III launches on January 29th, 2019 for the Xbox One and the PlayStation 4.
Your Daily Blend of Entertainment News
Staff Writer at CinemaBlend.