The 2019 Steam Awards Have Announced The Nominees, Read The Complete List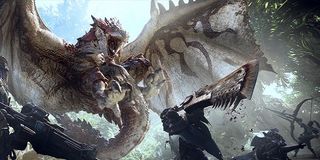 The Steam Awards 2018 nominee list has been announced, giving gamers the opportunity to weigh in on eight rather unique categories highlighting some of the best games everyone was playing over the past 12 months.
Hot on the heels of The Game Awards 2018, Valve has kicked off its own annual awards promotion with a list of nominees. It'll actually be a while before winners are revealed, but the voting process is open to anyone with a Steam account starting Dec. 20. Here's a rundown of the categories and nominees.
Game of the Year
Playerunknown's Battlegrounds
Monster Hunter: World
Kingdom Come: Deliverance
Hitman 2
Assassin's Creed Odyssey
VR Game of the Year
The Elder Scrolls V: Skyrim VR
VRChat
Beat Saber
Fallout 4 VR
SUPERHOT VR
Labor of Love
Dota 2
Grand Theft Auto V
No Man's Sky
Path of Exile
Stardew Valley
Best Environment
The Witcher 3: Wild Hunt
Subnautica
Shadow of the Tomb Raider
Far Cry 5
Dark Souls III
Better with Friends
Counter-Strike: Global Offensive
Tom Clancy's Rainbow Six Siege
PAYDAY 2
Dead by Daylight
Overcooked! 2
Best Alternate History
Wolfeinstein II: The New Colossus
Assassin's Creed Odyssey
Hearts of Iron IV
Sid Meier's Civilization VI
Fallout 4
Most Fun with a Machine
Euro Truck Simulator 2
Rocket League
NieR:Automata
Factorio
Space Engineers
Best Developer
CD PROJEKT RED
Ubisoft
Bethesda
Rockstar Games
Digital Extremes Ltd.
Square Enix
Capcom
Paradox Interactive
BANDAI NAMCO Entertainment
Klei
Only games available on Steam were able to be nominated, if you're wondering why games like Red Dead Redemption 2 and Super Smash Bros. Ultimate are a no-show. As for voting, it's live as of Dec. 20, the same day as the start of Steam's 12th annual Winter Sale. So, you might want to hide your wallet before logging in to vote, lest you want to accidentally buy a whole bunch of heavily discounted games in the process.
Voting will remain open until Jan. 3, with winners to be announced sometime in early February. As a side note, Valve noted that fan support for so many developers made it necessary to bump up the nominees for that category to 10 rather than the traditional 5, and they removed themselves from the running. Otherwise, they've stuck with the tradition of offering some rather quirky categories to consider.
There's nothing unexpected about Game of the Year and VR Game of the Year nominees, but Labor of Love is sure to be a tough decision (cough No Man's Sky cough). Best Environment is also a rather cool category to consider, as it gives attention to a part of a game that doesn't get as much recognition in these kinds of awards rundowns. And then there's Most Fun with a Machine, which includes everything from big rigs in Euro Truck Simulator to fan-servicey robots in NieR: Automata.
Feel free to share your thoughts on these categories in the comments below or, more importantly, log into Steam and vote.
Staff Writer for CinemaBlend.
Your Daily Blend of Entertainment News
Thank you for signing up to CinemaBlend. You will receive a verification email shortly.
There was a problem. Please refresh the page and try again.