Fortnite Has Special Plans For New Year's Eve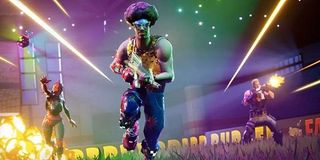 If you're having trouble making plans for New Year's Eve, Fortnite has you covered. Fans playing the game during the shift between years will be treated to a spectacular light show, presuming you're not too busy being shot at to enjoy in the event.
Some folks outside of the U.S. have already rung in the New Year, and some of those same folks were playing Fortnite when the calendar flipped over to 2019. Streamer @RockyOnTwitch was one such player, streaming his crew's session from New Zealand.
As you can see from the clip he posted, an unannounced event popped off within the world of Fortnite at midnight. Well, one of the streamers states "it's 3 a.m.," so maybe the math isn't all that exact with the event, but it's always midnight somewhere. In other words, if you live on the west coast in the U.S., the festivities might go off as early as 9 p.m.
As for what actually happens, Rocky and his crew were busy fortifying an area when a bunch of loud explosions started going off within the Fortnite-verse. Rocky first thought he saw another meteor falling before he reached higher ground to get a better look at the event. His reaction is pretty hilarious, as it's not every day you see a massive disco ball appear in the night sky during a round of battle royale.
The "meteor" turned out to be fireworks, which ranged from random explosions to actual shapes, such as a massive "2019." And, of course, a Fortnite llama was also part of the colorful fun.
Unfortunately for Rocky, his crew's match was in the final minutes of play, so the danger zone prevented folks from finding a better view. Still, he managed to capture a solid look at quite a bit of the activity, and nobody shot him while he was enjoying the show. I'll call that a win.
At this point, we've basically grown to expect the unexpected within Fortnite. One of the big draws of Epic's insanely popular title is that the team is constantly updating the game's map in order to evolve the story about what's happening within the world. Combine that with events like meteors falling from the sky, and a massive cube inexplicably appearing and then slowly sliding across the map, and players have grown accustomed to there being much more to do within the game outside of simply gunning for the number one spot.
It's a rather brilliant move from a business standpoint. Gamers never know what they might miss on when they're not playing Fortnite, so they should probably spend as much time in the game as humanly possible, right?
Anyway, this is a pretty great way to cap off a fantastic year for Fortnite, which has seen tremendous growth in 2018. Other than a series of lawsuits tied to in-game emotes, it's one of the rare free-to-play games that seems to respect its rabid community and the time they pour into the game. Now that 2018 is coming to an end, it'll be interesting to see how Fortnite continues to surprise us in 2019.
Staff Writer for CinemaBlend.