Fortnite's Creator Just Earned An F From The Better Business Bureau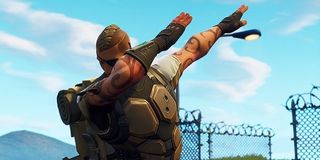 When you play Fortnite as a duo or squad, communication is key. According to the Better Business Bureau, that's a lesson parent company Epic Games might need to re-learn. In a recent report, Epic was awarded the organization's lowest rating for 2018, an "F."
The past year has been huge for Epic, all thanks to its runaway hit, Fortnite. But rather than just create a battle royale mode and call it good, Epic has continued to build momentum thanks to constant updates and adjustments based on fan feedback. From that perspective, it appears part of Epic's success is the fact that it is so engaged with its community.
But according to the Better Business Bureau, those open channels might not extend to the realm of customer service. According to a report from Kotaku, the BBB's F grade for Epic is primarily due to what it describes as unresolved issues with customers. The BBB's report states that out of 271 complaints filed in the past year through its organization, 247 went unanswered by Epic.
But this matter doesn't appear to be as cut and dry as the BBB is reporting. For starters, Epic Games is not affiliated with the Better Business Bureau and, therefore, does not necessarily feel the need to meet its requirements for a higher grade.
Secondly, according to a statement from Epic in the initial report, Epic states that complaints from the BBB have been passed on internally to the Player Support staff. In other words, just because these issues have been reported through the BBB does not mean Epic is handling them through the organization. So of those 247 reportedly unanswered issues, Epic may have actually addressed them without the BBB being involved.
It's also worth noting that the BBB is actually comprised of numerous non-profit groups dedicated to improving business practices when it comes to things like customer service. In other words, they're not an official government entity and participation with their grading system is voluntary. They've become quite trusted over the years, though, which is why so many businesses seem eager to pay their dues.
And that actually brings up another issue noted in the original report. Since the people being graded are the ones funding the operation, the BBB has been under fire in the past for operating under what some see as a pretty clear conflict of interest.
Whether or not Epic Games decides to affiliate with and work more closely with the BBB remains to be seen, but Steam parent company Valve has been in this same boat for years -- and all of those F grades don't seem to have had an impact on their platform's success. Of course, Epic is just getting started with its own major games distribution platform, so they may decide strengthening future relationships with the BBB is a solid course of action. We'll just have to wait and see.
Staff Writer for CinemaBlend.
Your Daily Blend of Entertainment News
Thank you for signing up to CinemaBlend. You will receive a verification email shortly.
There was a problem. Please refresh the page and try again.