How Anthem's Demo Will Be Different From The Final Game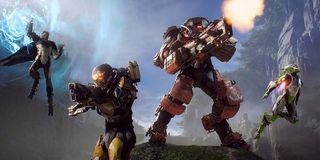 The Anthem demo is set to go live soon, giving players a chance to take the game's Javelins for a test drive. According to Executive Producer Mark Darrah, though, a few things will differ from the final game. Here's what the producer had to say about what's coming up:
With the Anthem demo going live next week, the team at BioWare wants players to be aware that some of the content they'll be seeing in this test run will differ from what's on offer at launch. That's not a totally unique occurrence for demos; however, given how many moving parts there are in a game like Anthem, it makes sense the developers would want to prepare folks in advance.
For starters, rather than drop players into the game's opening, the demo will instead kick things off somewhere in the middle of the campaign. As a matter of fact, there will be no tutorials included in the demo, so players will just need to jump into a Javelin and figure things out for themselves. That might be a bit confusing at first; then again, this is a third-person shooter. I'm sure there will be some unique controls to figure out; regardless, I'm guessing Anthem is going to work pretty much like your average genre entry.
While Darrah's tweet notes that you won't be able to pick your pilot in the demo, he doesn't say that Javelin options are locked, so you'll hopefully be able to have your choice from the four available variants.
This demo is an older build of Anthem which, again, isn't super uncommon. However, that means you can run into some additional bugs, as fixes have continued for a good six weeks that won't be present in the demo. The game's balance and economy are also different, so don't get too frustrated if any of those in-game systems feel wonky. Again, the whole point of the demo is to test the game's servers and give players an idea of what, exactly, they can expect from the final game. It's currently drawing a lot of comparisons to games like Destiny and Warframe but, given the fact this is the team responsible for games like Dragon Age and Mass Effect, it's a pretty safe bet we can expect some fresh spins on the games as service formula.
If you pre-ordered Anthem or are a member of EA Access or Origin Access, you'll be able to dive into the demo from Jan. 25-27. Otherwise, the beta will be open to everyone on Xbox One, PlayStation 4 and PC next Friday, Feb. 1. That public demo is expected to run through Feb. 3.
After that, BioWare will have a month to take what they learn from the demo and apply it to the full game, as Anthem is set to launch on all platforms on Feb. 22.
Your Daily Blend of Entertainment News
Staff Writer for CinemaBlend.