Metro: Exodus Is The Latest Game To Ditch Steam For the Epic Games Store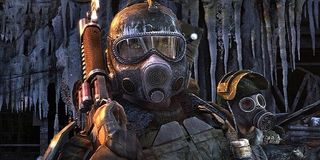 Another shot has been fired in the PC platform war, as Deep Silver has announced that the upcoming first-person shooter, Metro: Exodus, will now launch exclusively on the Epic Games Store. This announcement is coming in pretty close to the wire, as Exodus is set to launch on PC and game consoles on February 15.
The upcoming Metro game is just the latest example of a publisher jumping the Steam ship, with titles like The Division 2 and the final season of Telltale's The Walking Dead already pledging their allegiance to the Epic Games Store.
As noted in an update via Polygon, though, this doesn't mean these types of exclusivity deals are permanent. Similar to what we've seen on games consoles for years now, it looks like Metro's deal with Epic is simply a timed exclusivity. Come February 14 of next year, it looks like Exodus will finally arrive on Steam.
Moving forward, we wouldn't be surprised to see even more publishers flirting with Epic Games Store exclusivity. The storefront is actually curated, which means you won't be finding a bunch of shovelware choking the library of games (for now, at least). Also, since the storefront only launched like a month ago, visibility for any new game is going to be super high.
Finally, and clearly the most enticing to publishers and developers, there's the earnings split being offered. Game creators get 88 percent of their earnings on the Epic storefront, compared to the 70 percent being offered by Steam. Folks were upset about the earnings split on Steam well before the Epic store appeared, so it's no wonder some big-name publishers and games are so eager to take this new option for a spin.
According to their own statement, Steam's parent company, Valve, isn't too pleased with this sudden shift for Metro: Exodus, saying it's "unfair" to folks who already saw the game advertised on the Steam marketplace. According to Deep Silver, customers with outstanding pre-orders for Metro: Exodus through other digital retailers will be honored, but anyone looking to pre-order the game now or purchase it following launch will only be able to do so through the Epic Games Store. That seems like a pretty reasonable compromise, especially since Exodus doesn't offer cooperative or multiplayer options. In other words, a smaller "audience" on Steam won't have an impact on the game post-launch.
According to the initial report, both Epic and Deep Silver are excited about this partnership, highlighting the revenue split as a major factor that will allow developers to invest more earnings into their various projects or even pass the savings on to the players. That second scenario seems like a bit of a stretch, but I'm all for developers/publishers earning a bigger cut on their own products.
At this point, the battle between Epic and Valve seems pretty serious. If more games abandon Steam, Valve might be forced to reevaluate its own practices in order to make its storefront more attractive.
Your Daily Blend of Entertainment News
Staff Writer for CinemaBlend.