3D Space RPG, Pirate Galaxy, Now Available For Facebook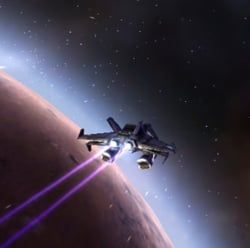 Splitscreen Interactive's astoundingly polished MMO space adventure game, Pirate Galaxy is now available to play via Facebook. The game breaks all kinds of trends with its sharp visuals deep RPG elements. Originally, the game was a hit via browser-based tech that allowed low-end computers to run the game without requiring tons of hard drive space.
Gustaf Stechmann, CEO at Splitscreen Studios commented in the press release, saying…
What a way to kick off the 3D MMO Facebook trend, yikes. Pirate Galaxy is an abnormally well-rounded game to be free-to-play and offers gamers tons of gameplay depth. It'll be interesting to see how well it measures up with the Facebook audience, though.
Gamers can check out the game over at its new Official Facebook Page.
Staff Writer at CinemaBlend.
Your Daily Blend of Entertainment News
Thank you for signing up to CinemaBlend. You will receive a verification email shortly.
There was a problem. Please refresh the page and try again.