4 Video Game Bars You Need To Visit At Least Once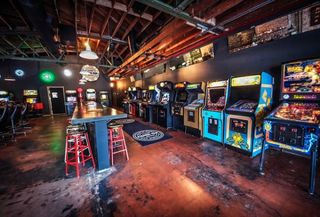 There's a stereotype that describes hardcore gamers as shut-ins who surround themselves with a fortress of pizza boxes and Mountain Dew cans at their high-tech gaming PC, but we all know it's a horrible stereotype. Because gamers can have lavish social lives, too. And you'll find a lot of them at these hip and addictive video game bars across the country.
1. Button Mash
Button Mash is a video game bar located in the Echo Park area of Los Angeles. The bar just opened last Fall and already has raving reviews. Button Mash features 12 craft beers on tap and wine, and of course an array of arcade games to choose from. The bar features food from Starry Kitchen, featuring an Asian fusion menu including crispy tofu balls, spam fried rice and a spicy Korean pork belly sandwich, to name a few. And if you're a vegetarian, well you're in luck because they also offer vegetarian friendly options like grilled eggplant and rainbow carrots. They also offer classic games like Ghouls N' Ghosts and Punch-Out and pinball machines like Tales From The Crypt and Star Wars Trilogy.
2. Folsom Street Foundry
Located in the heart of San Francisco, Folsom Street Foundry boasts a massive area for drinking and playing games. The games can get as intimate as couch party games like Gang Beasts and can be as consuming and as solo as Centipede. When you walk into the bar, you're surrounded by gigantic TV screens all over the room where players are participating in a range of different games. What's great about this bar is that it isn't exclusively a "video game bar." It hosts game nights where not only can players play games on the big screen, but can also bring their own games from home, like D&D and Settlers Of Catan.
3. Coin-Op Game Room
Coin-Op is located in San Diego and includes a selection of pinball machines and arcade games. While barcades like Button Mash had more of a fancy Asian Fusion menu, Coin-Op focuses more on gamer-like bar foods like popcorn, corn dog bites and fried oreos. And they even have a veggie dog for the non-meat eaters.
4. 42 Lounge
Moving away from the video-game-infested West Coast towards the Midwest, 42 Lounge in Milwaukee offers a swanky gaming experience complete with cosplay nights and game-themed food. The drink menu boasts clever drink names like Tony Stark's Mark VII and Aeris (named after the famed Final Fantasy character). The bar also just launched an ale house, which also includes a space for games and a full menu. There's a video on their main website showing the two, 42 Lounge and 42 Ale House, going head to head in laser tag.
Your Daily Blend of Entertainment News
Thank you for signing up to CinemaBlend. You will receive a verification email shortly.
There was a problem. Please refresh the page and try again.