9/18 To 9/23 Video Game Releases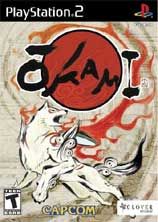 While a lot of games are coming out for the week of 9/18-9/23, there aren't many that really stand out. Of the games that do, the PS2's Okami, the 360's Godfather, and the DS/GBA's new Pokemon games are the best of the lot.
Okami looks to be one of the true sleeper hits of the year, made by Clover Studios- who were behind the awesome Viewtiful Joe games. It's very much a platformer in the vein of Zelda, but it looks like a Japanese watercolor painting. One of the functions in the game is to "paint" things in order to execute certain actions. So, you're basically painting actions into a watercolor painting. I've played the demo, and it works really well, and looks absolutely gorgeous. I cannot understate this: it really does look absolutely friggin gorgeous.
The Godfather on 360 isn't going to be just a souped up version of the current-gen Godfather games. They purposefully held it's release back so that they could add in a lot more content, and go beyond just giving it a graphical facelift. They're also releasing a PSP version of the game, but it's for the PSP, and will most likely be inferior to the current-gen version, and also be slow as hell to load.
As for the DS and GBA, they're getting new Pokemon games- Blue and Red Rescue Team. I'm actually looking forwards to Pokemon Ranger, but these games will sell like hotcakes nonetheless. The other DS game that looks' promising is Dragon Quest Heroes: Rocket Slime. Yes, the iconic slimes from the Dragon Quest/Dragon Warrior games have their own titles (and have for a while, in Japan). It is very much a kid's game, and is a happy game (unlike the current DQ VIII, which is really somber, but great), but don't let that fool you. It's also a very good tactical game, since there's tank battles (I'm not kidding!) that act like warship duels.
For more sleeper stuff, there's the Cabela's Alaskan Adventure game that's upcoming. Suprisingly, the Cabela's games sell very well, despite being a niche game. Otherwise, do check out the Capcom Classics Mini Mix for the GBA, if only because they have Strider (!) on it. That's old school platforming greatness! That game also has Bionic Commando and Mighty Final Fight on it, so it's pretty solid all around.
Lastly, there's a lot of kid oriented, or just plain "I don't know why they are bothering with this" kind of games. I mean, who the heck wants to play Dora the Explorer? Or Bratz? Titles like these make me embarassed to be a gamer. That said, I'm sure kids will love them.
Here's a full list of upcoming games for the week:
Backyardigans: Mission to Mars (PC)
Bratz: Forever Diamondz (DS, GBA)
Cabela's Alaskan Adventure (PS2, 360)
Call of Duty War Chest (PC)
Capcom Classics Mini Mix (GBA)
Danny Phantom: Urban Jungle (DS, GBA)
Dora the Explorer: Dora's World Adventure (PC)
Dragon Quest Heroes: Rocket Slime (DS)
Face Factory (PC)
Fashion Dogz (GBA)
Fate (PC)
Ford Bold Moves Street Racing (PS2, Xbox, PC)
Go Diego Go (PC)
The Godfather (PC)
The Godfather: Mob Wars (PSP)
G.T.R. 2 (PC)
King of Fighters 2006 (PS2)
King's Quest Compilation (PC)
Leisure Suit Larry Compliation (PC)
NRA Gun Club (PS2)
Okami (PS2)
Patriot National Guard (PC)
Police Quest Compilation (PC)
Open Season (PS2, 360, PSP, Xbox, GC, DS, GBA)
Pokemon Mystery Dungeon: Blue Rescue Team (DS)
Pokemon Mystery Dungeon: Red Rescue Team (GBA)
Princess Natasha: Student Secret Agent (GBA)
Samurai Warriors 2 (PS2)
Space Quest Compilation (PC)
Strawberry Shortcake's Sweet Dreams (GBA)
Ultimate Pinball Pack (PC)
World Series of Poker: Tournament of Champions (PS2, PSP, Xbox, PC)
Zatch Bell: Mamodo Fury (PS2)
Your Daily Blend of Entertainment News
Thank you for signing up to CinemaBlend. You will receive a verification email shortly.
There was a problem. Please refresh the page and try again.