APOX – RTS/RPG/FPS Hybrid Announced By BlueGiant Interactive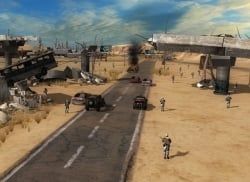 There's no better way to grab a large audience of gamers without putting much effort into it than by giving them a cross-genre title that incorporates a little bit of everything that made other video games popular. BlueGiant Interactive announced that their upcoming project, APOX, will combine a mixture of elements to give gamers something unique and original.
Mark Currie, Lead Designer for the game shared some insight about the game in the press release, saying…
The game is running on the OGRE engine, which allows the team to take full advantage of visual performance and gameplay depth. What's more is that the game allows players to mix-and-match units with vehicles, creating a whole new kind of atmosphere for the real-time strategy model.
APOX will support multiplayer for up to 32 players, as well as over 100 maps where players can destroy, blow up and mangle the mess out of each other. You can learn more about the game by visiting the Official Website
Staff Writer at CinemaBlend.
Your Daily Blend of Entertainment News
Thank you for signing up to CinemaBlend. You will receive a verification email shortly.
There was a problem. Please refresh the page and try again.