Aeria Games Acquires Runes Of Magic In Turkey, Latin America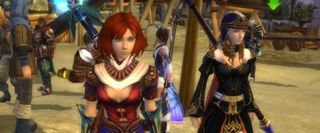 Aeria Games and K2 Networks have come to a publishing agreement that sees one of the largest MMO publishers in the world gaining rights to one of the largest MMOs out there right now. K2 Networks, better known as the parent company for the hugely popular GamersFirst, owns the publishing rights to Runes of Magic, but Aeria is stepping in to distribute the game in key MMO territories.
This isn't the first MMO that Aeria has bought the rights to in order to distribute in Latin America...Shaiya and Perfect World are two other games that they have bought the rights to publish in the key Latin territories, enabling them to garner huge profits from the deal.
Lan Hoang, Chief Executive Officer, Aeria Games commented in the press release, saying...
Runes of Magic joins Aeria's already illustrious portfolio, which includes games like Dynasty Warriors Online, Metal Assault, Eden Eternal and Shin Megami Tensei Online, further helping them strengthen their grip on the MMO genre.
Exact publishing dates for Runes of Magic in Spanish, Turkish and Portuguese speaking territories has yet to be disclosed. However I imagine it won't be long before Runes of Magic heads into CBT for Latin Americans. You can learn more about the deal and other games published by Aeria Games by visiting the Official Website.
Staff Writer at CinemaBlend.
Your Daily Blend of Entertainment News
Thank you for signing up to CinemaBlend. You will receive a verification email shortly.
There was a problem. Please refresh the page and try again.