Age Of Conan Expansion Will Be Revealed In August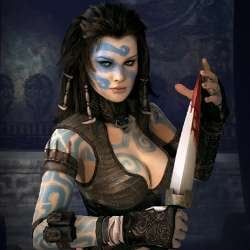 Boobs and barbarians MMORPG Age of Conan will be getting its first expansion sometime in the near future. Developer/publisher Funcom will reveal it to the world later this summer.
Funcom's Erling Elllingsen informed Eurogamer of the upcoming announcement and noted that a team has been dedicated to creating the expansion since the game first launched in May 2008. He didn't say much else about the new content but noted that Funcom is "making sure we build upon the strengths of the game and stay true to the original vision we have always had for Age of Conan."
The AoC expansion will be officially unveiled at GamesCom in Germany. GamesCom begins on August 19th and runs until the 23rd.
Staff Writer at CinemaBlend.
Your Daily Blend of Entertainment News
Thank you for signing up to CinemaBlend. You will receive a verification email shortly.
There was a problem. Please refresh the page and try again.