Age Of Myth Launches On iOS For Free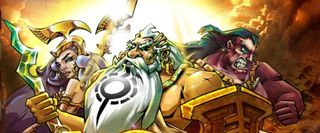 CWA Games' latest foray on iOS has gone live, bringing Age of Myth to anyone running an iDevice with a desire to get in some side-scrolling action set in a land full of myths and legends.
Age of Myth is available for free starting today on iOS with the standard version available for the iPod touch, iPhone and iPad devices. A snazzy HD edition is also available for those gaming on the iPad.
The game is designed as a simple pick up and play action strategy title. Players choose between three heroes—Warrior, Archer, Mage—making their selection off of which class would best suit the challenges offered within a level. Each class has their own unique characteristics, equipment and abilities, adding a bit of depth to the hack-em-up strategy gameplay.
Set in a world overflowing with Greek mythology, players will run into everything from a hydra and a harpy, on up to gods like Zeus and Poseidon. The game is set across 30 levels, each with its own mix of villains, gods and monsters to overthrow. Being a mobile game, there's also lots of achievements to unlock and share with your friends through Twitter and Facebook.
"We are very excited to add Age of Myth to our existing gaming portfolio," said CWA's Eileen Lin. "Greek mythology and legends are a popular historical topic, and we were delighted to be able to incorporate such a significant era into what is an exciting, yet challenging action strategy adventure."
CWA is already hard at work on an Android version but, for now, Age of Myth is an iOS exclusive. To check it out for yourself, head on over to the Age of Myth official iTunes page.
Your Daily Blend of Entertainment News
Staff Writer for CinemaBlend.