Aliens: Colonial Marines System Requirements: You'll Need Steam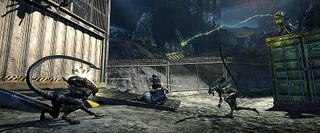 Sega has released the system requirements for the PC version of upcoming shooter Aliens: Colonial Marines. The specs, among other things reveal that you'll need to have Steam installed to run the game.
After you've installed the game, you'll need to authenticate your copy through Steam. You'll only have to do this once. No doubt some of you are opposed to DRM in any form but at least you don't need a persistent Internet connection.
The full specs are below, courtesy of AVPGalaxy:
Additionally, AVPGalaxy revealed that Marines will be available for pre-purchase through Steam. With select titles, Steam sometimes offers a 10% discount on pre-purchases. We'll see if they offer the same sort of deal for this game.
Colonial Marines is set after the events of the film Aliens. A contingent of Marines is sent to LV-426 to find Ellen Ripley and her team. What they find is a full-blown xenomorph infestation. The marines will have to fight these creatures throughout locations seen in the film, such as the U.S.S. Sulaco and Hadley's Hope.
Staff Writer at CinemaBlend.
Your Daily Blend of Entertainment News
Thank you for signing up to CinemaBlend. You will receive a verification email shortly.
There was a problem. Please refresh the page and try again.