All-Pro Football 2K8, Music Tracks From World Renown DJ Z-Trip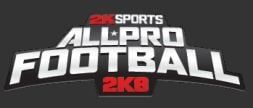 2K Sports' is on a music mission to bring gamers some cutting edge tunes. In this case, All-Pro Football 2K8 is the new interactive home for world famous disc jockey, DJ Z-Trip. The game will feature 13 different tracks and guess what? Yeah, we have the full list of the songs right here at CB Games.
DJ Z-Trip performs more than 100 shows a year and received notable acclaim from critics with his "Shifting Gears" album. "One thing I really appreciate about 2K Sports is they take chances when it comes to their music selection, and I'm all about that," said DJ Z-Trip. "Working on the All-Pro Football 2K8 soundtrack gave me the opportunity to really mix things up. The music fits perfectly in the game, making you want to nod your head and tackle someone at the same time."
All-Pro Football 2K8 features an advanced version of the All-Pro Football engine and completely revised visuals for hi-def gaming (duh). But right now we're all about the music, so you can check out the complete soundtrack listing for the game below. Be sure to visit 2K Games or 2K Sports Official Website for more information or details regarding the All-Pro Football series.
All-Pro Football 2K8 Official Track Listing:
1. "All-Pro Intro"
2. "Something Different" featuring Chali 2Na & Keno 1
3. "Sudden Death" featuring DJ Faust
4. "Let the Rhythm Hit 'Em 2007" featuring Rakim & Chevelle
5. "Doin' It Like This" featuring Clutch
6. "Automatic At It" featuring Aceyalone
7. "Go Hard" featuring Gift of Gab & Dub Trio
8. "On My Side" featuring Lateef & Slug
9. "I Don't Need This Trouble" featuring Natural Self
10. "Sure Shot" featuring Casual & Pep Love
11. "Rock, Shock, Break" featuring Backyard Bangers
12. "Locked and Loaded" featuring Deftones & Dead Prez
13. "Tom Sawyer (Z-Trip Remix)" – Rush
Your Daily Blend of Entertainment News
Staff Writer at CinemaBlend.