Allods Online: Game Of Gods Expansion Coming In February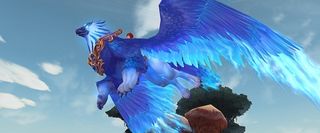 After being in service since 2010, Allods Online has received several major expansions, overhauls and content updates. The newest expansion, Game of Gods, will be the game's largest content update yet, with a brand new class, a fourth Astral layer, enhanced ship physics, new dungeons, PvP arenas and an increased level cap.
As stated in the press release...
Allods Online has basically been hailed as an updated version of World of Warcraft with better graphics and end-game content. PvP plays a pivotal role in the game's story and that alone hones in on the game's clans as a focal point of progression and the roles each class plays in the game.
What's more is that with another layer added to the Astral, the ether system gets even more expanded. There will be an additional 13 allods added to the game after the expansion, enabling gamers to venture even deeper into the open-world exploration offered up via Astral ship travel. However, in addition to expanding the Astral the ship combat has also been revamped and improved with better ship turning mechanics, allowing for a more realized Astral confrontation between the mammoth sized ships. Still no word yet on whether they added the raid ships, but that would be pretty epic.
You can check out the complete list of new additions to the game below or you can pay a visit to the game's Official Website to download the client for free and start enjoying your time in Sarnaut.
Game of Gods Expansion Features:
• New Quests: Meet the gods of Sarnaut and unravel the mysteries of this strange universe's creation and destruction in a series of over 100 story-driven quests.
• New Raid: Challenge 10 powerful bosses in an epic raid designed for the most skilled players.
• New Bard Archetype: Master new skills and a new play style with the completely new bard class.
• Great Rank: Win ultimate renown by completing an epic quest series to gain an extra skill point, customization slot, and more to make an even stronger character.
• Bigger Battlegrounds: Team up to defeat opposing players in the new 12v12 PvP Battlegrounds.
• Expanded Astral: Brave the lethal fourth layer of Astral Space with its 13 all new astral allods.
• Faster Ship Combat: Spin the ship and fire the cannons faster than ever with newly revamped physics for astral ship battles.
• Increased Level Cap: Achieve new heights of power as the level cap expands from 47 to 51.
• Share with Friends: Record all your victories with an automatic, opt-in social network system.
Your Daily Blend of Entertainment News
Staff Writer at CinemaBlend.
Your Daily Blend of Entertainment News
Thank you for signing up to CinemaBlend. You will receive a verification email shortly.
There was a problem. Please refresh the page and try again.